A professional freelancer proposal sample is always wanted for getting a freelance job. Freelancers, who get baffled while writing up a proposal to the client, should read this article thoroughly.
Our 02 samples of how you should write a killer proposal for freelancer will make you surprised. Every hidden tips will be discussed elaborately in the description below.
You have to describe your freelancer proposal in a very professional way in 2023. So if you think you are lagging behind because of a perfect proposal, evaluate this article with full contemplation and then apply for your dream job.
How to Describe a Professional Freelancer Proposal
Of course, to fulfill the desire of getting a perfect job you have to work on your proposal cover letter to make it the unique and masterpiece one. You should keep an important notice in your head that, there are, like you, thousands of applicants standing at the door of the clients to have the desired job in their pocket.
Why do you think the client will hire you for the job?
It needs patience and skills to write up a perfect proposal. And if you fulfill the requirements, the job is yours so to say. Among the requirements, some are to be followed strictly and some are to be followed diplomatically. Make sure your proposal is qualitative enough to attract the eyes of your client. The more precise your proposal is, the more chance of yours to get the job. Thus taking some extra care on the quality of the proposal will bring you success.
Now let's explore the sample that is given below and the freelancers can choose his favorite template from those and use it for their job. Also, to enlighten the freelancers free tips and suggestions are imprinted as well. And to understand the full criteria of the proposal sample, cover letters have been added as well.
To comprehend the whole samples conspicuously we are choosing three best sectors of freelancing which are the Data entry, Virtual assistant and web development sectors.
Freelancer Job Description Sample
Job Brief
We are looking for an expert on data entry who is efficient enough in managing computer systems and maintaining important information for our company.
Responsibilities
Typing data and transferring it to the requiring files
Creating spreadsheets and make it work
Ensuring data safety and update data sheets on regular basis
Requirements
4+ years of experiences
Fast typing skill
Efficiency in Open office, Access, PowerPoint
Hello, my name is (write down your name correctly).

I am an expert in data entry and have been servicing this sector for 5 years. From everyday data tasks to official data related tasks, all are in my day-to-day playing field.

I have a bachelor's degree in software engineering from the university of (write down the name of your varsity) and my educational background helped me a lot to explore this ground with more perfection.
From extracting valuable data to transferring it to the important file and from finding out the errors of spreadsheets to clear the complex data, I do it all with great patience without making mistakes. My ability in PowerPoint, excel, open office, transcription and in other computer sectors is enviable.
I also can persuade customers by fulfilling their desire tactfully and can keep pace with other companies to make a good relationship for the sake of the company. Also, I work with honesty and try to provide my 100 percent to it. I can meet the deadline and work under pressure.

I would love to work in your team and hope you like my proposal. I am looking forward to working with you in your dream project.

Thank you.
Hello, my name is (write down your name).

Lately I had a look on your job post and there you have asked for an unfailing Virtual Assistant for your Company. You would be pleased to know that I am an expert and working as a virtual assistant for about 6 long years.

Now, I know everything about this job and I have a remarkable significance in this sector. I am a graduate of ICT, therefore, I have certain ways and strategies of handling any customer or any work regarding this sector. I am a persuasive freelancer with passion and hunger for knowledge. I am a learner and researching my works helps me to emphasize on the latest trends.
I empower using all the tools required in this sector. As a virtual assistant, I have never failed to amaze my clients with my hard labor. I have always been appreciated for my fast thinking ability, multitasking brilliance, effective communication authority and what not!

Overall, I am a complete package and worth having the job. So, let me be a part of your company and surely I will contribute a lot for the success of your company. Hope to hear from you soon.

Thank you.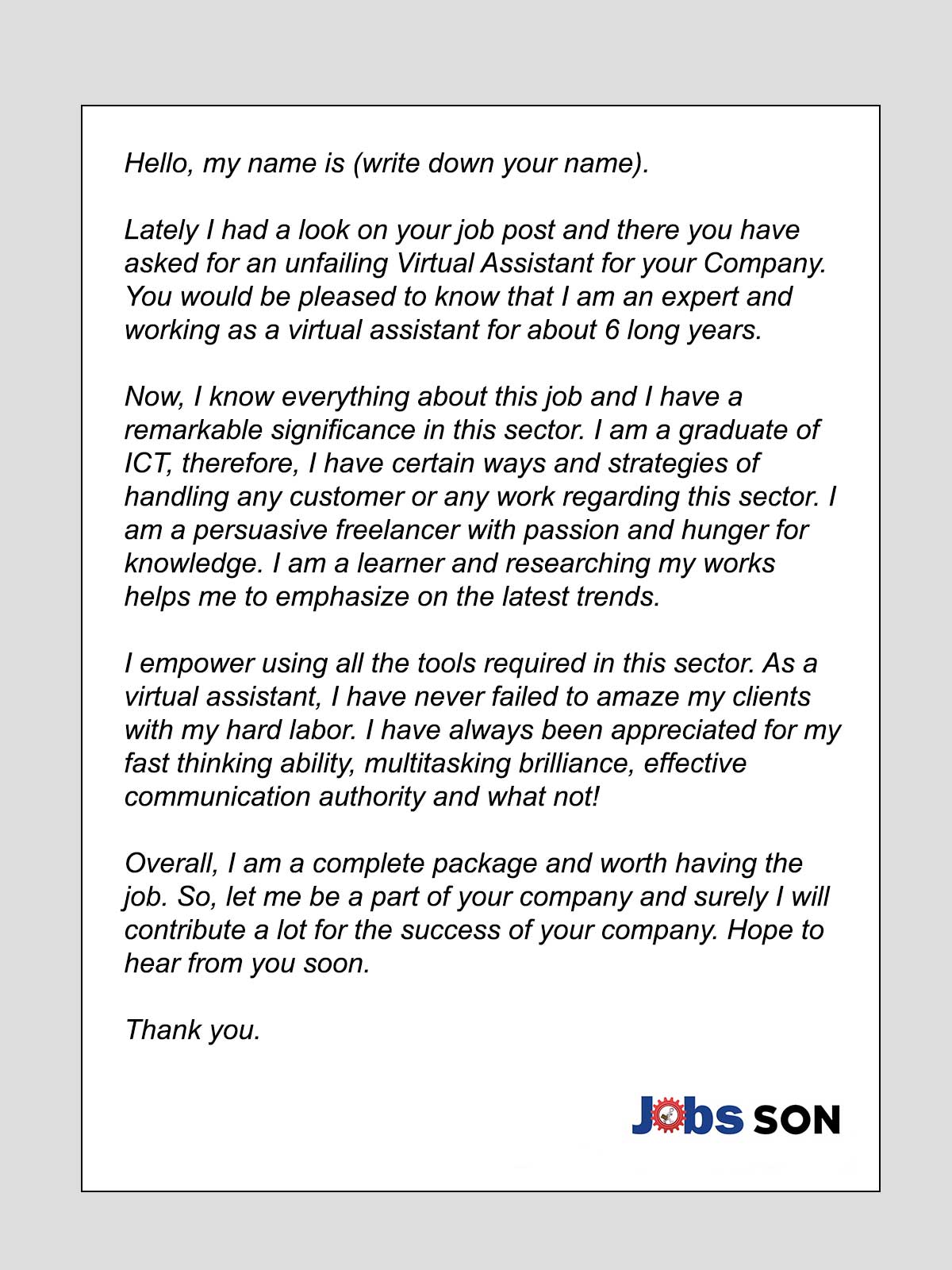 Hi there, I am (write down your name).

I have been exploring this field for 6 long years and still interested in carrying myself on with gaining unlimited knowledge from it.

As I have always been an inquisitive learner, I easily can cope with the new technical terms and languages of computers and can make others understand it too. I am deft in the prominent languages of programming including, HTML, CSS, JavaScript, PHP and so on.
I am a software engineer and have created many websites of my own which got many famous among the general people and I've been overwhelmed with many appreciations as well. Here are some of my best created websites links (attached some of your best work).

I have strong knowledge on team capability building. I have a good communication skills as well. So I guarantee you of my level best performance and hope you are convinced by my skills already.

Thank you.
Tips to Describe a Professional Freelancer Proposal
1. Finding out the suitable job
As a freelancer you should find out the perfect and suitable job for yourself as per your position at first. Applying for a job you are not capable of would be a bad idea and can be an obstacle to your smooth career. Always choose the right job and think about its pros and cons.
2. Keep the proposal short but qualitative
A short proposal can also win the heart of a client if it's written in a perfect manner. Quality must be ensured before you drop your proposal to the desk of your client. Quantity turns less important and quality is highly measured in this sector.
3. Give your best to the proposal
Do not forget that you will not get chances every time. So whenever you get it, you make the right use of it. Study before you write a proposal and read the job description thoroughly to get the absolute notions about the company and its project.
4. Be professional and frank
Flexibility is another important thing a client notices in a proposal. If you are frank enough by maintaining professionalism, a client would definitely appreciate that because it is a skill highly demand-able in the business if online market.
5. Generic responses should not be a must
Do not use the same template for every kind of job. Try to bring variation in it and add some extra skills regarding the project. In this way you will be able to be an independent worker and can understand the demands of the clients gradually.
6. Try to create an environment of trust and faith
See, without loyalty and faith within the co-workers, an online company cannot rise. That's why you have to put words of trust and faithfulness to assure your client of your honesty.
7. Mark your availability and work hour
If you imprint your availability and hours of work, clients will think you as a wise and valuable person. In this way your client can understand the time of picking you for any kind of job related questions. And thus, the time of the client is not killed.
8. Avoid sharing personal information
Your proposal is not a personal letter, keep this in mind and go on writing it. Any kind of sharing of personal incidents annoys the client as it kills the precious time of the client and is totally irrelevant to the content. Depict the related information only.