Freelance data entry bid proposal sample has become very popular and desirable because of its demand in the freelancing world. Our daily office and personal activities are increasing day by day. That's why an assistant like data entry operator is becoming more popular gradually. You may see Data Entry Profile Summary Sample.
Data entry proposal samples play a very important role to get your desirable projects. You need to fulfill the requirements of the clients. That's why you have to be very skilled and well prepared. At first, you have to be very careful about your proposal letter.
If your freelance proposal cover letter for data entry is not well written, clients won't select you for the job as there are many freelancers who compete against that one job. So, prepare your proposal samples very carefully and show your experience and expertise to get your dream job.
Here to see how to describe your proposal in freelancer sample for data entry. If you are a data entry freelancer and trying to create an attractive proposal letter for freelancer, don't worry! We are here to help you. Let's check out some tips and data entry proposal letters for freelancers.
Client's Requirements on Data Entry Proposal Sample for Freelancer
Do you know what your clients are asking from you? Maybe you don't. That's mean you are not creative enough. You have to understand your client's mind by the lines of the job description. You must have to satisfy your clients by your active performance. Your data entry proposal should work like a bullet that directly hit to your client's belief. You have to be reliable by your words. There are some basic needs of the clients. You have to be very punctual about the time.
Availability is one of the most important factor where you have to focus on. You have to make sure that you can give as much as time the client wants. We generally see too many newcomers are entering the freelancing world day by day. Most of them do not have enough experiences in data entry tasks. It is true that skilled arrangements of false information can bring you a job. But it may not last longer. We should respect the clients and honest to the information. Please try to describe your bid proposal for data entry job with proper arrangement and 100% confidend.
Skills Needed of a Data Entry Freelancer
There are some important skills that you should have as a data entry operator.
Typing skills are one of them. You should be skilled in touch typing as every day there's a very large amount of data that is entered.
Data Analysis, Data Filter, Diagram, Chart, web entry, etc
Report generation, google sheet, data research, data export, MySQL, MS SQL, Data server, Custom Database, etc
You also need to increase your typing speed. You should have the ability to write 60 words per minute.
There are also some software programs that you need to know for data entry.
Microsoft word files, excel sheets, PowerPoint, etc programs are used to input data and also save a lot of time.
Describe these kinds of skills in your proposal letter for data entry.
Excel, word, powerpoint, google sheet, web forms, google docs, data analysis, data filter, data report generation, flow chart, wave chart, documentation, My SQL, MS SQL, data server, cloud server, data management, data back up and store, data export, etc
Mistakes to Avoid when Writing Data Entry Proposal for Freelancer
Keep in mind that your proposal letter for data entry needs to be short and interesting.
Don't use unnecessary words. Mention about your previous works.
If you are new don't try to make fake claims.
Most importantly, don't copy and paste other proposal letters as clients can check whether your letter is authentic or not.
Don't make grammatical mistakes.
Prepare your proposal letter without making any mistakes and make the clients believe that you are a skilled data entry expert.
Data Entry Proposal Sample for Freelancer (01)
Hello,
My name is Pop.

I am writing to you for the position of data entry expert that you are looking for an urgent basis. Data entry job is my passion and I have 6+ years of experiences in this field that makes me confident to apply in this project.
My typing speed is one of my great assets for your project. I have been playing with MS Word and Excel for more than 7 years and I understand every inch of this software. I believe I will be an asset for your project. My recent client Mr. Dork gave me a five-star review satisfying with my quality work. I have available time to start your project as soon as you hire me. I have a good market research skill that will assist you to do something innovative in your project.
My feedback and experience section will show you more about my skills. Will you please visit my client's reviews to judge me more? Hoping that I'll also be able to satisfy you and gain a five-star rating. I am expecting to hear from you as early as you can.
I am friendly to talk and be connected with my client via the preferred methods they ask. I believe, a short interview can make our understanding more meaningful. Will you please call me for a short interview and so that you can understand my communication skills as well.

Thank you and best regard
Pop
Data Entry Proposal Sample for Freelancer (02)
Dear hiring manager,

I would like to let you know that I'm an expert in data entry freelancing and have been working for more than 10 years. Hardworking and dedication is my passion that I always prefer to employ in my projects. I like to run after quality work that makes my client smile. I love in trial and I like to show you some examples that will make you confident to hire me.
Honestly I am new in freelancing world but not in data entry world. I have successfully completed 100+ projects for our local organizations. Now this is the time to work internationally and spread my fake all over the world. My educational qualifications and diploma in computer science and technology made me more qualified for any type of secretarial and data entry job. All programs of MS Word is on my fingers & eyes including online data research.

So, if you hire me, I am ready to start your project immediately with full work plan. I like to give you the best output you have ever seen.
If you want, you can contact me through email, Skype and Whatsapp and any kind of communication methods. I'm eagerly waiting for your response.

Yours sincerely
Rup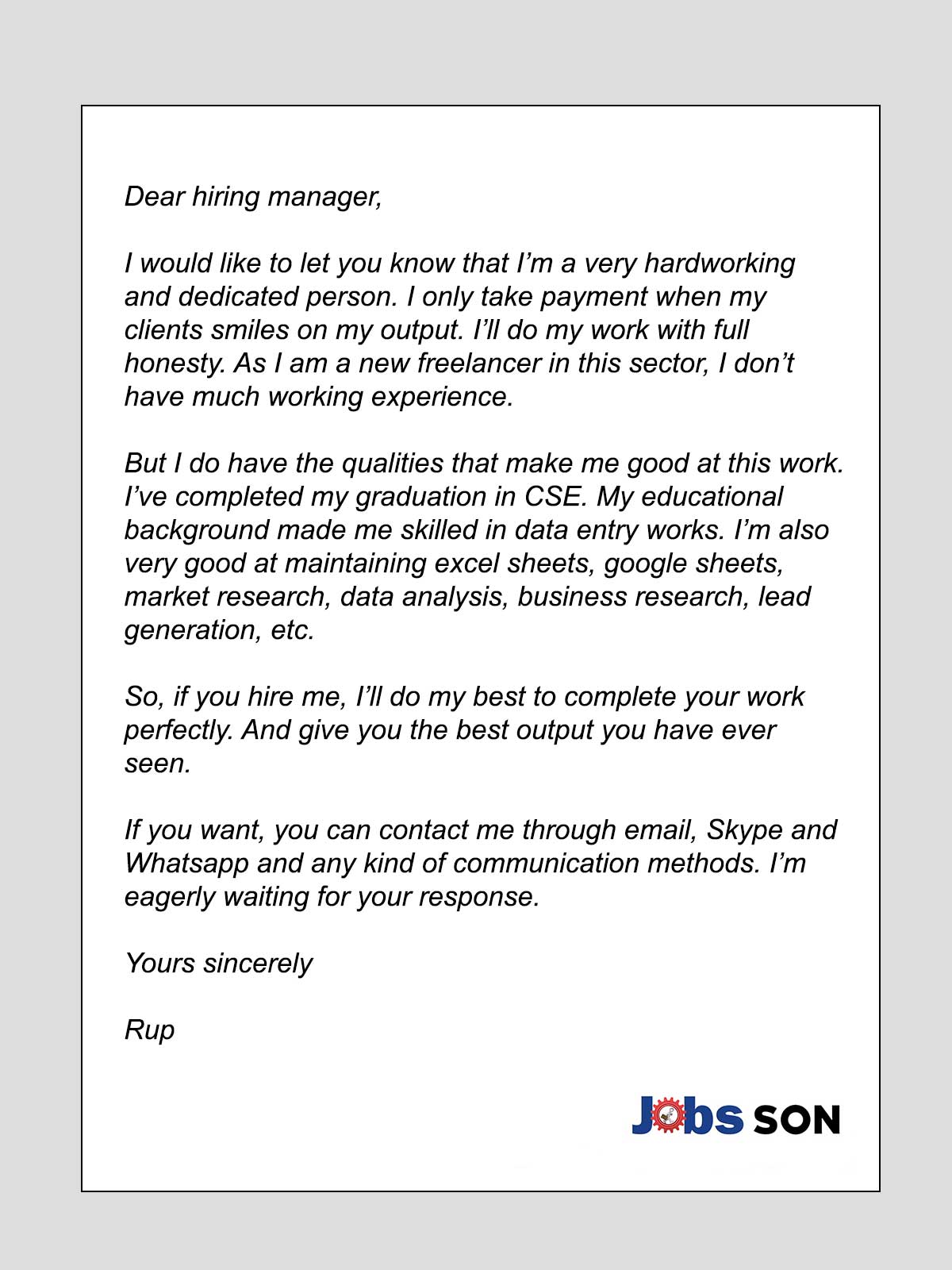 Sample 01: Freelancer Job Posting on Data Entry
Sample 02: Freelancer Job Posting on Data Entry
Sample 03: Freelancer Job posting on Data Entry