This professional freelancer profile summary sample for seo experts has earned a lot of jobs in the past few months. SEO Expert works as a force of modern business marketing. It helps to drive traffic from search engines to websites. SEO also helps websites to get better rank and lift the websites high on search engines' results. You may like: SEO Expert Proposal Samples
Don't miss: Freelancer Professional Profile Summary Sample and Example
That's why there's more demand for SEO experts in the online market. But to get a fine job as an SEO expert you first need to write an interesting freelancer profile summary.
Be focused about choosing your keywords. You can add a perfect profile picture that can give a perfect professional look. Now review the job post carefully and find out what your client is searching for. Then start to write based on it.
Don't write irrelevant skills in freelancer profile summary as an seo expert that are not useful for being an professional SEO King. Try to mention your best skills related to SEO based works in the profile summary.
Best Skills to Write Freelancer Profile Summary for SEO Expert
Programming language like HTML and CSS
PHP, blogger
On page
Off-page
Planning of keywords
Web search
SEO, SEM tools
Alexa rank
Organizing data
Use of problem-solving methods
After mentioning these kinds of skills you have to gain your clients trust. Otherwise, your client won't be able to rely on you. So start writing your profile summary in such a way that shows your immense capability of handling a project as an SEO expert and make it successful.
Make your profile summary concise and simple. Be straight and professional towards the clients. Do not make any irrelevant statement that shows a lack of professionalism. It can be disturbing for clients. So use the punching keywords that attract clients to give you that desirable work. Here you have learned the basic things you need to follow while writing the profile summary. Now check out the Freelancer Profile summary samples SEO for your better knowledge:
Freelancer profile summary sample SEO Expert (01)
I am working as an SEO specialist for more than five years and have gathered profound knowledge in this sector. I am also good at using programming tools such as:
On page use and off-page use
HTML, CSS
SEO plugins
PHP, blogging
Most importantly I know very well that business market sectors are getting competitive day by day. So it's important for small business websites to get a good rank on search engine result pages. As an SEO expert, I have to be always updated about the market system.
I am very well aware of the fact that the competition is mainly about remaining in the top list of the first page in Google search. As I have been working in this sector for many years, I know the strategy very well. I am confident enough and can assure clients that I can lift their websites up and help them to get a high rank.
I am also very punctual and always complete my work within the given time so that clients do not have to face any problem. If anyone is interested in working with me, he can give his business details. I am certainly sure that I can help to ensure the top position of his business site on Google.
I have also many skills that are useful for running the SEO department of big companies such as:
Data organizing skill
Critical and analytical skills
Communication skills
Arranging meetings successfully
Proper understanding of solving methods
Also, I completed my graduation in Software engineering. And I did many courses regarding SEO skills that really helped me to develop my expertise in coding, programming languages, and SEO tools.
I hope you have found the skills you are looking for to accomplish your project. Thank you for visiting my profile.
Freelancer Profile Summary Sample for SEO Expert (02)
I am an expert on search engine optimization along with using on-page as well as off-page. Besides, I have a bachelor's degree in Software Engineering and five years of working experience. That's why I have become an efficient user of SEO tools like:
PHP, HTML, CSS
WordPress
Planning on Google keyword
Using Google analytics
Web research
SEO meta tags
Google search console
KWFinder
Moz
SpyFu
Answer the public tool
Ubersuggest keyword finder tool
Also, I have many other soft skills which are really helpful to accomplish my work successfully:
Flexible in handling any project
Analytical skills for problem-solving
Understanding clients and consumers need
Managing meetings and making tough decisions
Taking a smart move for the development of clients business
I am a very skilled and hardworking SEO expert who is 100% dedicated to his work. That's why I have got some amazing feedback and a five-star rating from my previous clients.
have capability working on a short budget and a short time
Always maintain quality
Meet deadlines
Do my best to make any project successful
Recommended by other clients
Moreover, I always do a lot of research to keep myself updated and secure my position in this competitive field. Doing plagiarism is not my cup of tea. I believe in my own creativity and the brain. And always try to do my work with 100 % honesty.
So if you consider me perfect for your job, you can contact me through email.

Thank you.
Freelancer Profile Summary Sample for SEO Expert (03)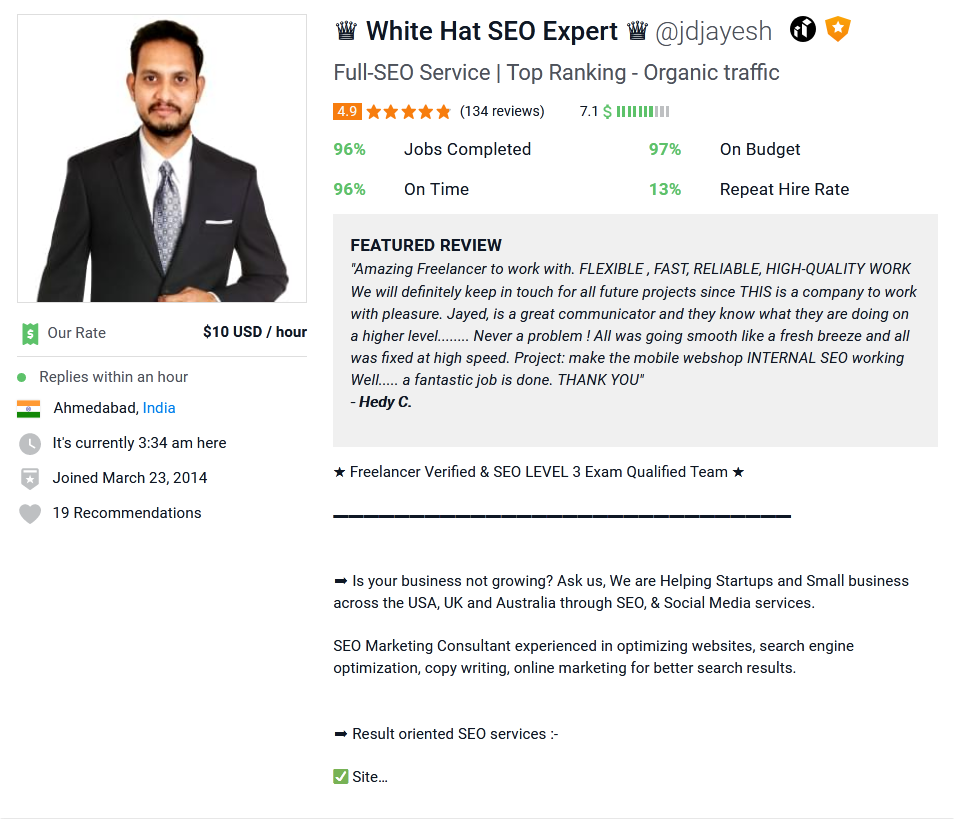 Freelancer Profile Summary Sample for SEO Expert (04)
Freelancer Profile Summary Sample for SEO Expert (05)