I believe this freelancer proposal sample for seo expert will help you out gaining your first job in freelancer.com. Well, choosing the work of freelancing in Search Engine Optimization requires some specific skills and experiences. But what it requires most is a perfect proposal sample. Many of the freelancers fail to find their intended job because of their lack of writing the proposal in a very convincing way. So, if you want a job in freelancing for SEO but running out of the ideas about writing a decent proposal, then here you go! Let's see SEO Expert Profile Summary
This article is all about the contents you have been looking for. Read between the lines and you will get all of it. First of all, the SEO specialists come from varieties of sectors. You may have an enormous number of skills in your list. But you have to choose the specific ones related to this sector.
Other skills unrelated to the job, surely not gonna help you a bit. So, why would you beat around the bush? Rather work on how you will illustrate your interest and passion for the job in your proposal. All the clients out there only want to see your passion for the job, trust me. Now, coming to the specific skills in this sector, let's have a short look below.
Skills to Write SEO Expert Proposal Sample for Freelancer
Skills in both on-page, off page activities, research techniques and having analytical thinking ability
Having basic knowledge about programming, web coding and google tools
Good at speaking, writing and people skills
Acknowledgement about HTML, CSS, meta tags, solving crawl issues, H1, status codes, XML sitemaps etc.
Efficiency in competition analysis, URL structure changes and keyword mapping
Proficient is social networking, operative communication skill, multitasking
Skills in photo and video submission and promotion, copywriting
Link building capability, knowing marketing strategy
So, these are the must have skills if you wanna slay the job. Surely, you have all of those or many of those as you are pursuing from your passion. No one comes to a battle without preparation, right? Now, all you need is some ideas of a nailing proposal template. But before that let's have some knowledge about the job description. You need to understand it first before writing any proposal.
Deliverables
Take measures in content strategy and alighting pages for SEO
Performing in internal linking structures and continuous keyword research
Acting on content optimization and competition and strategic analysis
Brief Description
We are searching for a SEO specialist who will handle all the SEO related activities. You have to be a skilled one. From content strategy to increasing ranking activities you will be responsible. You will have to have link building skills to manage all SEO campaigns for the company. You are in charge of maximizing ROI.
Requirements
Proven experiences of working with mid companies for 4 years
Working experience in managing tools related to this sector
Understanding about online customer winning and performance marketing
Basics about programming and updated with ongoing and latest practices in SEO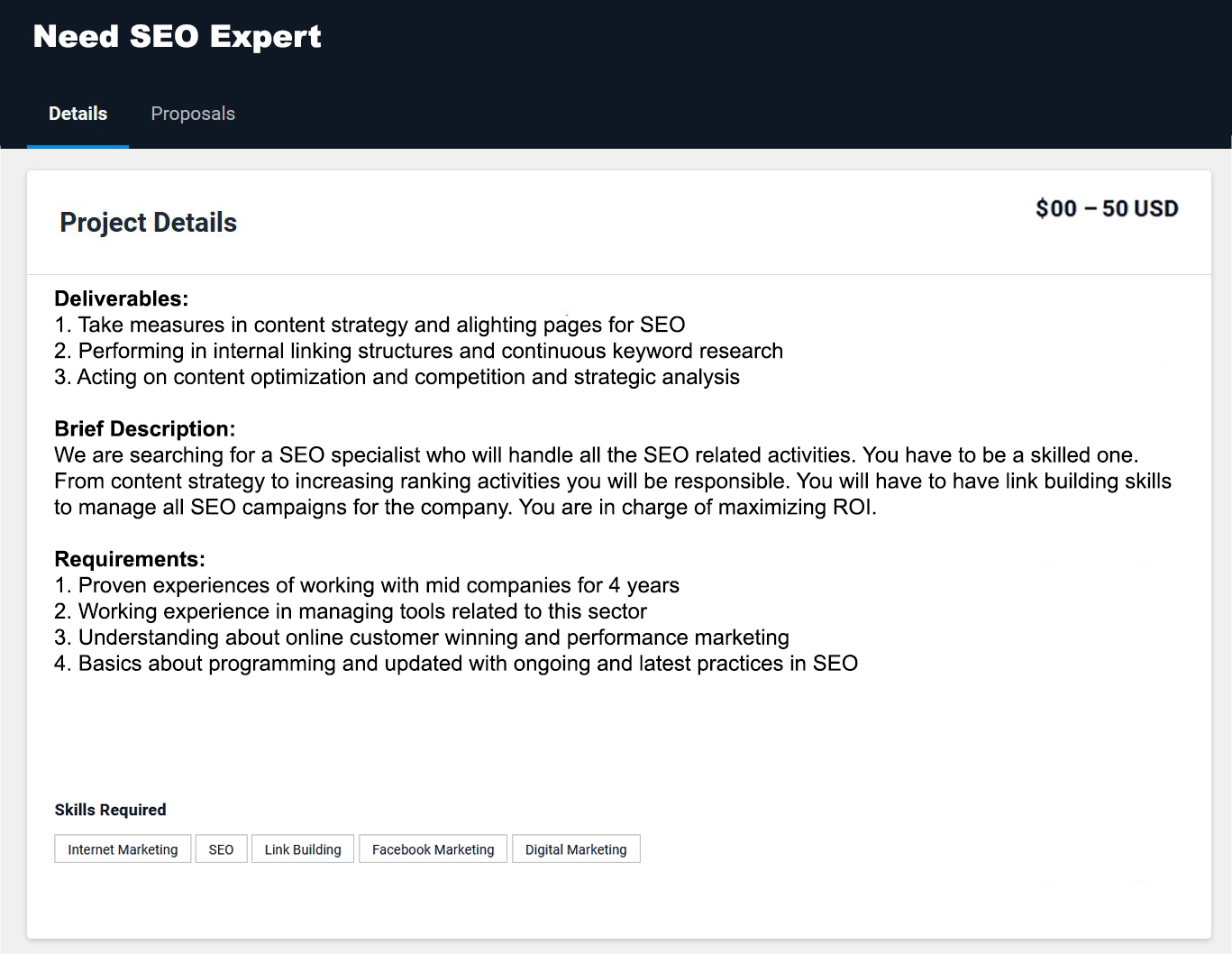 Freelancer Proposal Sample for SEO Expert (01)
Hi there.
My name is (write down your name). I am an SEO and SEM specialist and have an experience of about 6 long years. I have gone through your job notice and I have found myself perfectly eligible one. I am aware of all the responsibilities and requirements you have demanded.
I am ready to share and deliver every skill that I possess in this sector. First of all, I am quite up to date with all the latest and recent most practices about SEO. I am expert in both on-page and off-page. Hence, I have all the basics and understanding related to conversion, marketing and online consumer acquisition. I conceptualize my work first with the latest demand then I illustrate them in my work.
Moreover, I show appreciable data analyzing capability. I am good at organizing campaigns on budget and keyword research. I am tremendous at building linkages and my communication is quite effective. I am very much passionate about my work. I can take responsibilities and work on the progress. I can lead a team as a leader with perfect gesture and posture. Again, I am an honest worker. I never let my client down for me.
However, I always accept if I make mistakes and learn from my mistakes. Enormous research and studies in this sector have brought me all the strategies I need to know about SEO. Now, I easily can track and analyze PPC initiatives and website analytics.
Overall, I am immensely good at what I do. And I have massive interest in working on your project. Probably, my addition to your company will bring abundant success. So, I would like to request you to count me in.
Thank you.
Freelancer Proposal Sample for SEO Expert (02)
Hello, it's (write down your name accurately).
I am representing my 5 years of fruitful experience on SEO and tagged as an expert in this sector. I am a complete package as a specialist on SEO in both off and on page skills. I have come to know all your requirements and I am highly recommending myself for this wonderful job.
I am a graduate of Software Engineering from the university of (write down your varsity name). My education background helps nail my work more perfectly I must say. But also, I am a self learner and self motivator. I have achieved everything with my hard work. Coming to my hard skills in SEO, I am good at everything. I can work on content strategy and building links through practicing the best ways. I deal differently to my consumers and they also like my styles. I have experience working on all the massive search networks. I am good at increasing rankings using keyword strategy.
I am proficient enough in site map creation and URL, HTML, H1, H2, validation and creating meta information. Among the off page SEO activities, commenting on blogs or forums, submissions of press releases or articles and reviews are quite appreciable.
Apart from all the hard skills, my soft skills are enchanting too. I am multitasking, confident, passionate, certain, proficient, stable and what not. I keep my words because I try to remain honest to myself. And I think in every workstation, being honest is a must thing. You can count on my hard work, labor, skills and everything.
Lastly, I hope only the winning of the worthy ones. I will be looking forward to your positive feedback or you can have my face to face interrogation. I wish for the immense success of your company.
Peace.
Freelancer Project Details Sample for SEO Expert (01)
Freelancer Project Details Sample for SEO Expert (02)