We are providing digital marketing & SMM proposal samples for freelancers because nowadays digital marketing and social media marketing have become very popular in the freelancing world. In fact, these marketing processes are fully connected with online communities. The demand for digital marketers is also very high. Let's see Digital marketer Profile Summary Sampel
So, if you want to become a digital market rock star, first you need to know how to write a very interesting freelance proposal cover letter. Because it's the most fruitful way to impress clients. Clients will rate you as a digital marketing freelancer by reading your proposal cover letter and then they will feel interested to see your profile.
What to Mention in your Digital Marketing (SMM) Proposal
So, in your freelance proposal cover letter, you just need to mention your skills for digital marketing and SMM. And while writing your cover letter, you also should be careful about your words. Clients will like to see how you can impress them through your words because here, you are marketing yourself. That's why the choices of words are very important.
So if you want to write the best Freelancer proposal cover letter for digital marketing and social media marketing (SMM), but don't know proper ideas about it, don't be anxious. We are here to provide you some best freelancer proposal cover letters which certainly will help you to write your best one.
Digital Marketers & Their Skills when Writing a Freelance Proposal
As the demand for digital marketers is getting higher, the competition is also getting tough. As a result, you have to compete against thousands of freelancers. That's why it's not possible for clients to read the whole proposal letter of every competitor. In that case, you have to be a little more tricky. Use impressive speeches within the first few lines of your proposal letter, so that the clients feel attracted and go through your whole proposal cover letter.
Try to be very professional. It's not just a simple letter. It's a letter in which you are describing only yourself. So describe yourself as a fully professional freelancer of digital marketing and SMM.
You need to be creative. You need to use your own brain. So, don't try to do copy and paste. By doing it, you can easily get caught. Then no matter what your client will never work with you. That's why it's important to gain the trust of your client. Use your own words, patterns while writing the proposal letter.
As a digital market freelancer, you need to be a little careful while writing any proposal letter. Don't mention many skills that are not related to digital marketing. Try to mention as if digital marketing is the only skill you are good at. That's how you will easily gain the trust of your client.
Never make your proposal cover letter too long and boring. And don't use unnecessary words. Make the letter short and be smart enough to impress your client. Prepare the letter as if you are marketing yourself towards the clients.
Prepare a very convincing letter so that clients find every possible reason to hire you.
Template and Qualities of a Proposal as a Digital Marketer
Don't commit any mistakes. Certainly, clients won't like a proposal cover letter which is full of grammatical errors. Any kind of plagiarism won't be accepted here. Rather it will damage your career.
Your writing and editing skills should be strong. Digital marketing and SMM are not just about writing articles on normal topics or blogs. It's about how you can communicate with your audiences and convince them according to your interests. So, strong content and relevant massage are needed to become a successful freelancer of digital marketing.
Having good knowledge about SEO and Search Engine Marketing is very essential for a digital marketing freelancer. Use your SEO keywords very creatively. It will help you to drive traffic from your site. And it will also help to make your content evergreen so that the audience can easily find the content.
Customs relationship Management skills are also important. This skill is based on how you can grow your understanding level with customers. You have to improve your CRM if you want to connect with the customers who will eventually promote your brand.
Digital Marketing & SMM Proposal Sample for Freelancer (01)
Dear hiring manager,

Hello.

I'm Afrina. I've seen your job post on freelancer.com and come to know that you are searching for a skilled professional Freelancer for digital marketing and SMM. I'm glad to let you know that I'm very interested in working on this project.
I've gathered many experiences in this field over the years. And the best thing is I love my work. My work has become my passion. That's why I spent many years working on digital marketing and I've also studied and gained every possible skill that should have to become an expert in this field.

I've also attended many digital workshops which also helped me to create my own special methods to understand and communicate with audiences which is also very important for your project.
Over the years my communication skill has developed so well that I can easily convince my target customers to do exactly what I need. Certainly, I consider myself an expert in this field. Because I've gathered good command over SEO, SEM, SMM and other online works related to digital marketing.

I'm hoping to work with you. If you feel interested, contact me through skype, Facebook or email.

Have a good day.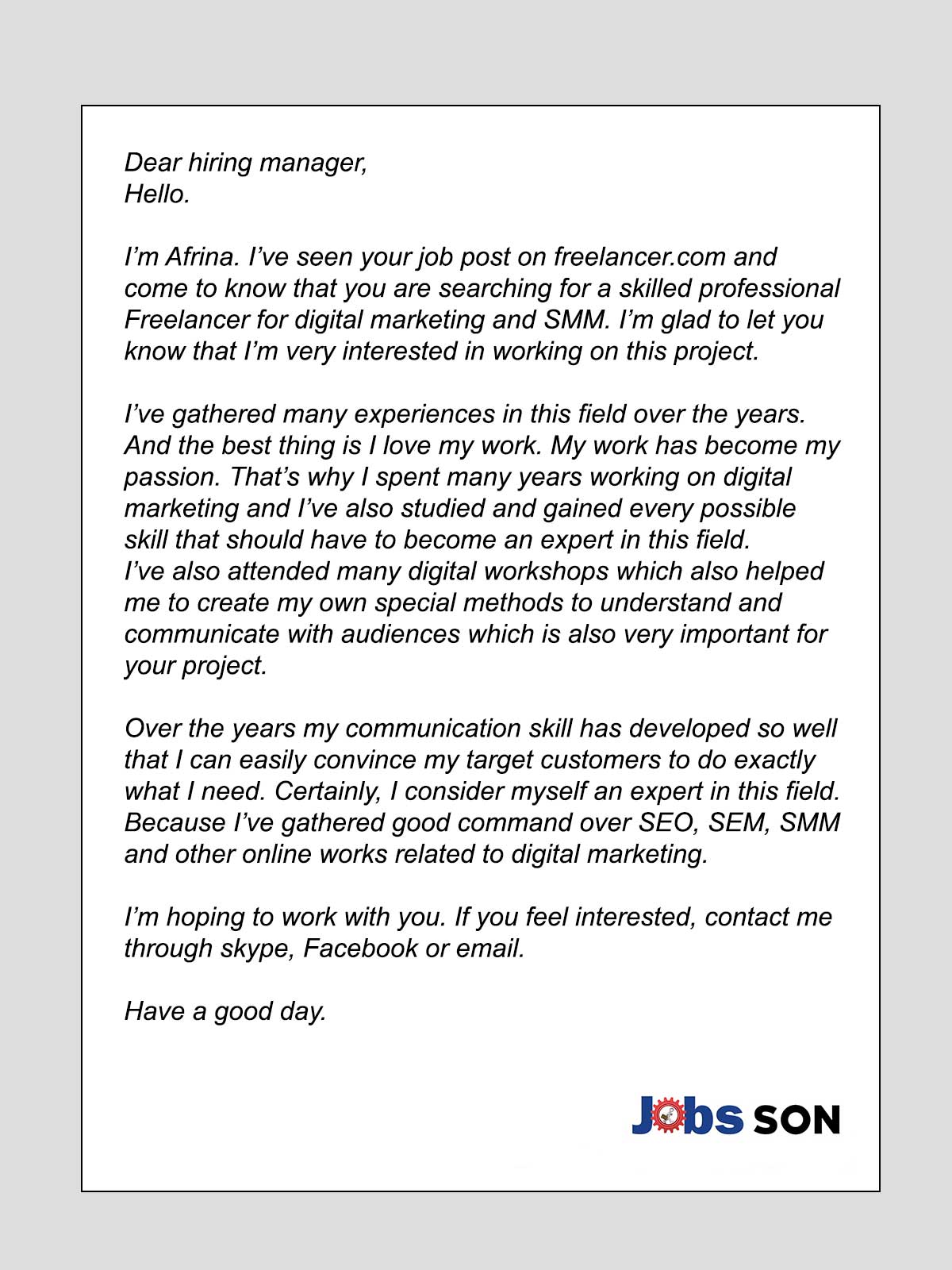 Digital Marketing & SMM Proposal Sample for Freelancer (02)
Dear Mr.

Rahman.

Good morning. I'm Oboni. Recently I've come to know that your company is searching for a professional skilled digital market. I would like to tell you that I've become a rock star in digital marketing and social Media Marketing.
My communication skill is also very impressive in both Bangla and English language. I can convince anyone by using my communication skills as I know that digital marketing is all about how to convince your target customer and it's like selling boats in a desert.
Moreover, I've five years of work experience in this field and also I've studied a lot on digital marketing and SMM. So, I've gained a vast knowledge about SEO, SEM, CRM and SMM. That's how I've become a pro digital marketer. I also work for 50 hours per week and I'm very punctual about time.
You can see it by checking my profile.

I'm always ready to take any kind of challenge. So if you consider me perfect for your job, contact me through any social media.

Have a nice Day.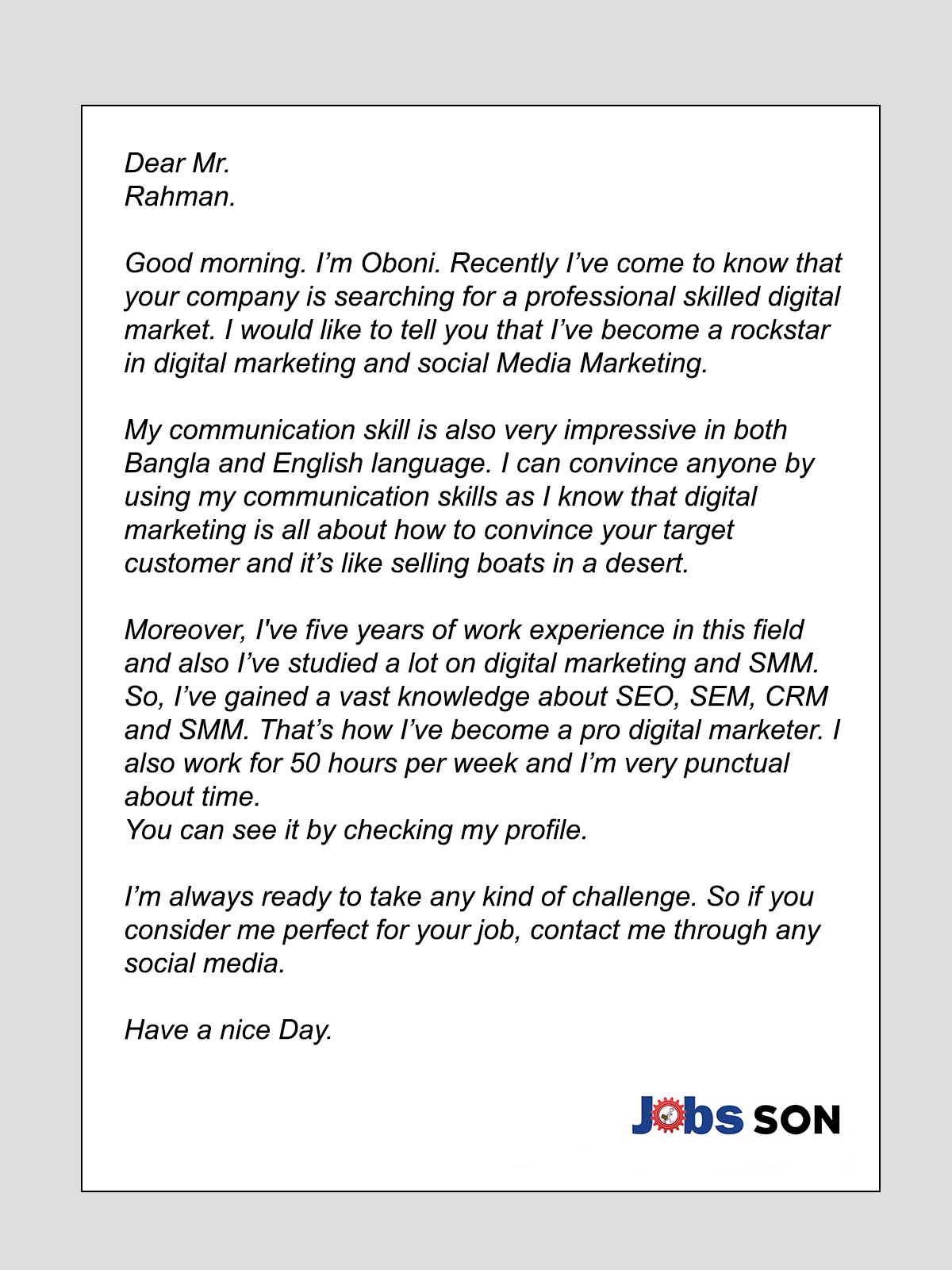 Sample 01: Freelancer job posting on Digital Marketing
Sample 02: Freelancer Job Posting on Digital Marketing