Here you will find a sample of Upwork proposal cover letter for article writer, Blog and Content Writing. This will give you the best example of Upwork Cover letter for article writing. Let's see: Article Writer Profile Overview Sample
This sample cover letter on Article/Blog/Content writing is mainly provided here so that freelancers can understand how to write a proper cover letter on their own. The great template of proposal of an article writer cover letter can help you easily to attract the clients and be hired. You are welcome to check data entry cover letter.
As a pro freelancer, I always come forward to help all the newcomers with as much as information and details I can provide in my blogs. But if you want more details, please go to Upwork's website and read the job postings with time.
Our recent publication of Upwork Screening Questions will help you more to face a job in the web. But no worries, you can find all the Answers of Upwork Proposal Questions here.
Article Writing Suggestions for Cover Letter
Many job seekers these days wonder what kind of cover letter is appropriate to send while applying for an Upwork Job Posting of Article/Blog/Content writing. A worker should make a customized version that talks about how his skills will benefit the particular company. One should uphold where he wants to work for and demonstrate how he will gain success according to the road map. Remember one thing, You're selling yourself in a cover letter, but only if the employer wants to buy your skills. To write an effective cover letter for Article/Blog/Content writing, please follow these steps.
Use good standard English while writing your cover letter.
Mention your skills and control over English.
At a certain point of the letter, tell your employer about your past experience of article writing
Make your client understand that you have a creative mind
Types of writing you know such as; article writing, blog writing, copywriting, rewriting, journal writing, press release writing, review writing, overview writing, news writing, content writing, motivational writing, speech writing, how to blog writing, forum writing, comment writing, essay writing, paragraph writing, question and answer writing, trend and lifestyle writing, story writing, online ebook writing, etc.
Writing Sections; keyword-based writing, topic-based writing, news-based writing, passion-based writing, assumption writing, SEO writing, etc.
There are many jobs posted in upwork everyday regarding article writing, check a snapshot
Things You Should Consider Before Writing a Cover Letter
Keep your cover letter simple and appealing.
Choose the right cover letter format for the job you seek.
Mention specific results and successful accomplishments.
You should include 'keywords' that match your skills and the job you seek.
You should add other relevant information.
You should revise your cover letter before you hit "Submit."
Read the client's hints in the job description carefully.
Check time requirements and project duration every time.
Always apply for jobs that have 'hourly' or 'fixed price' payment methods.
Check Report Submission Requirements, Skill Requirements, and Result Requirements before applying for a job.
Make a list of available apps that might have to use.
Look carefully for Country, Region, or Native Requirements.
Check out if the job is online-based or offline work.
Check out if it can be done with your smartphone or you'll need a PC to operate.
Only apply for those jobs which you are good at.
Set up your mind whether if you want to apply for a job or not, only after reading all the requirements given in the job posting. After reading every detail, if you feel like that your skills can't match the requirements or you can't afford to give so much time, I suggest you not to apply for a particular job. Because if your potential client hires you by reading your cover letter and you fail to satisfy him, you might badly lose your reputation as a freelancer.
Upwork Cover Letter for Article/Blog/Content Writing
Dear Hiring Manager,
Greetings
Just as soon as I read your job posting on (Job Title Here) I became very much interested to work with you in your project. I am a professional blogger and Wikipedia writer for more than 10 years. I myself have 5 blogs where I have already written 1K plus articles. Web content is a valuable piece of information and I know well how to arrange them to attract the user engagements. So, I think, If you put your trust in me, I will not disappoint you as I have the skills and qualifications that you're looking for this project of yours.
If you want more details on my skill and my previous finished jobs that I have finished with customer satisfaction, I would request you to have a look on my Profile, Portfolio, Work history and Feedbacks. Generally, I can write and post a fair sized blog content with graphics and all the SEO supplements within two hours or less depending on client's requirements.
In case you are wondering how we will stay connected, I want you know that I am always available on Email, Facebook and Skype at anytime. You are always welcomed to have a voice or video chat if necessary, at any hour of the day. As for the working hours, I will be available for at least 60 hours per week and able to start your project as soon as possible according to you with your permission to engage.
Thank you for your consideration,
Best Regards,
Write Down (Your Name Here)
Sample 01: Upwork Job Posting Sample for Article/Blog/Content Writing
Job Title: In an Urgent Need of an Article Writer
Job Description: I have 100 articles to be written fast. Each article will contain 3000 to 5000 words. I'll be paying $1500 for all of the articles. I know the budget is low but it's not for me. A potential client of mine needs this work to be done as soon as possible.
Applicants must have a good command in English as the articles will be published in English. Standard and Formal English writing is expected here. You must understand that all the works that you'll submit go through Copyscape and if you copy someone else's work, you'll get caught. So any work of plagiarism will not be accepted, neither it will be counted for payment. 50% of the payment will be in advance and the rest 50% will be paid after the work is completed. Thank you.
So if you agree by all the terms and conditions, the job is yours.
Sample 02: Upwork Job Posting Sample for Article/Blog/Content Writing
Sample 03: Upwork Job Posting Sample for Article/Blog/Content Writing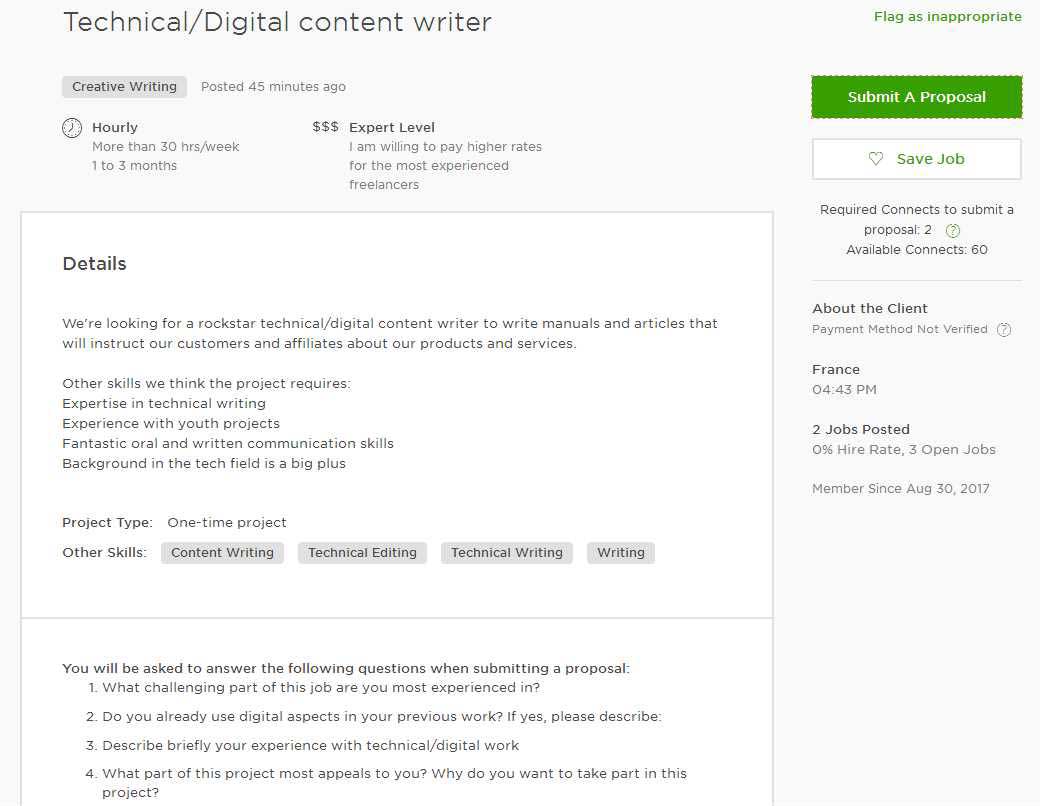 Sample 04: Upwork Job Posting Sample for Article/Blog/Content Writing