Are you a professional of UI & UX designing but don't know how to attract the client by a slaying upwork profile overview for ui & ux designer? Then you are at the right track. With full support you are going to be fully appeased by our service without any doubt. Let's see: UI & UX Designer Cover Letter Sample.
Since a UI & UX profile overview demands some basic tricks and kick ass words, you should be acquainted with those already. Know that, the struggle is common as you have to compete with thousands of the employees over there. So, to get the job, yours has to be the finest and eye-catchy one.
Once you attract your clients by representing some precious lines filled with wisdom and right skills, your job is almost confirmed. Now, what skills it needs to be a perfect UI & UX designer, do you know?
knowledge of writing Upwork profile overview sample for UI & UX Designer
Efficiency in UX research, study and UX writing.
Skills in using UI prototyping and wire framing tools.
Effective collaboration and analytical skills.
Knowledge in coding, interaction design and marketing.
Basic acknowledgement about different tools and software like python, Photoshop, illustrator, CSS, JavaScript etc.
Feasible both visual and non-visual communication.
Skills in business and revising.
Proficiency in responsive and crowd sourced design.
Multitasking, persuasiveness and passion.
Empathy, curiosity and thirst for knowledge.
These are the overall soft and hard skills you have to have more or less for pursuing the right job. If you have these skills then you can definitely jump on the bandwagon. Now all you have to do is play tricks while writing your profile overview. Let's jump on the two samples directly those we have provided below.
Upwork Profile Overview Sample for UI and UX Designer (01)
Hello, my name is (write down your name). Recently I have gone through your job notice and I would like to inform you that I am eligible for this job. I am a master of UI and UX design. 6 years of long experience in this site has made me an expert individual. My professionalism in this sector is quite convincing.
Moreover, I am always passionate about designing. I am always thirsty for designing and creating new dimensions. My cravings for learning new topics in this sector increase day by day. You must know now how passionate and confident I am in this area. I occupy all the basic and intensive knowledge about web developing, programming, PHP, CSS, HTML and what not. I am a boomer with a large number of records in UI and UX designing. I have a vast knowledge about this sector because of my extensive research skill.
Again, my proficiency in UI development for mobile applications and adobe creative suite is much more appreciable too. I do not lack any of the eligibility you have mentioned in your job description. With a remarkable sense of color, size and lay out I can slay any hard project. Now I have the ability of nailing my job in any diverse and mischievous environment. I am hundred percent honest to my work. I always show positive gestures and posture towards my coworkers. I am also good at team work. I have apprehensive instincts to visualize what exactly my client demands.
Above all, what matters most is the maintenance of the qualities. And I am the safeguard of my own skills and qualities. Therefore, I would love to share my skills with your project. Together we will make a strong team indeed. And if everything is okay, surely we can have a quick communication together. Thank you.
Upwork Profile Overview Sample for UI & UX Designer (02)
Hi there. My name is (write down your name). I am a specialist of UI and UX designing and confined myself in this ground for about six long years. In all these years, I have been very passionate and loyal to my work and thus have gained a lot of knowledge at once. So I consider myself a worthy one for the post you have mentioned in your job description.
Also, I belong to a smooth educational background as I have a bachelor's degree in Computer Science Engineering and have got a degree in interactive designing as well. I also have been certified with many honorable degrees in this ground (attach your certificates as a proof and embody your overview).
I have all the basic knowledge related to this ground. Like, I am efficient enough in Python, JavaScript, CSS and other types of coding. Also, my hand is quite gifted in photoshop and capturing photos and creating illustrations with an aesthetic environment.
On the other hand, I am quite adept in soft skills as well. I can understand the weather of good markets and bad markets. Also, my persuasive ability can bring out the best out of every coworker of mine. I have a mindset of working in a team with total endurance and assistance.
Furthermore, I never dissatisfy my clients. Penny is not the ultimate prospect of my work. It is my thirst for knowledge that I am interested in working with you. Hope you'll help me in being a master in this field.

Thank you.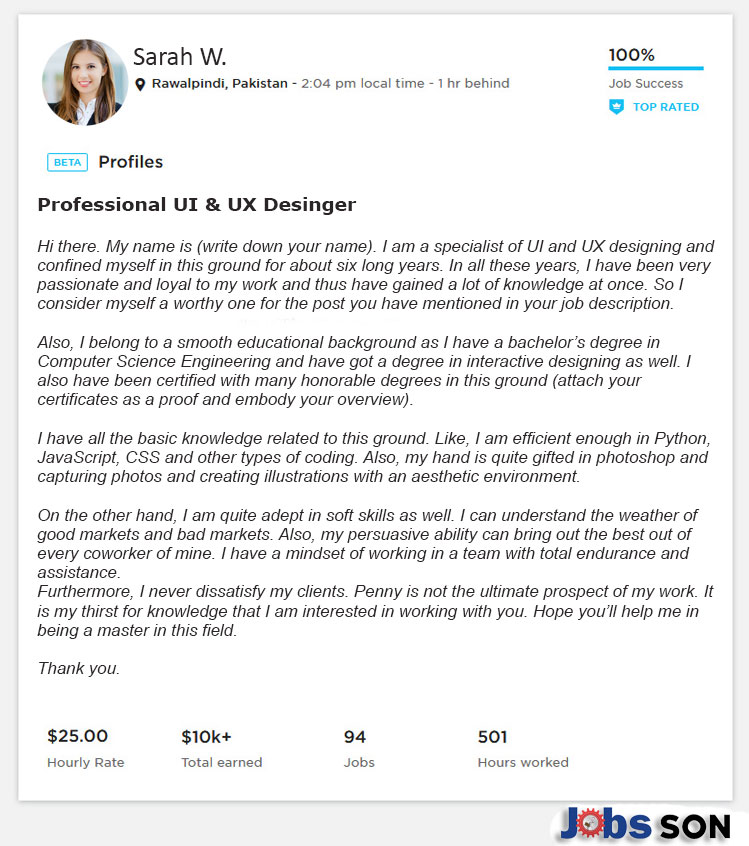 Upwork Profile Overview Sample for UI & UX Designer (03)
Upwork Profile Overview Sample for UI & UX Designer (04)
Upwork Profile Overview Sample for UI & UX Designer (05)