I am about to write on a sample of Upwork Cover Letter for Forum Posting but please remind in mind that it's a sample only. Please never dare to copy and paste from here. Please go through the whole article and gather knowledge on web design proposal in upwork or any other platform. I wish you best of luck.
Forum posting is as hard as easy to hear. It is the best way of of-page seo if someone can do it professionally. Well, the Off-Page Optimization increases the chances of your being found out on the organic search results which are undoubted, one of the main targets of a website. And Forum Posting is a process that does this job of yours just the way you want it. Let's see
Forum Posting not only helps you to increases web traffic but also increases your website backlinks at the same time. You must have to understand discussion group, asking questions, answer questions, engage in discussion, technically input links, etc are basically posted in a site as forums. Forum postings act as a good platform to communicate with other workers who are occupied in the same kind of working fields. It also helps to increase your awareness in the growing market. So, before you write a Cover Letter for any Forum Posting type Job Posting on Upwork, please make sure you know how to do these things with perfection. Click here to see Data Entry Portfolio Sample for Upwork and Freelancer.
Proper Title Selection
Proper Insertion of Keywords
Following proper Forum Guidelines
Building do-follow links by getting backlinks
Executing SEO techniques
Quality link building strategy
Signature backlink
White hat backlinking
High PR and DA backlink
Anchor text linking using "title" tag
Asking and Questioning in a forum
Collecting vote in your answers
Upwork Cover Letter Sample for Forum Posting
Dear Hiring Manager,

Hello, my name is (put your name here)

Recently I read a job posting on Upwork which made me very happy because the job posting is 100% fit for my skills. If I'm not wrong, that particular job posting of yours was on Forum Posting. After I finished studying all of the job description, I have come to understand that you are in need of an expert forum poster with the updated knowledge of strong backlinking. To be honest with you, nowadays you'll find a very few people who know completely about the forum posting. Yes, you may find a hundred of workers who are just doing the spamming in the name of forum posting.
Now if you ask, what Forum posting really is, I would say that it is one of the most important tools of strong backlinking. You may not know this, but if one organization somehow manages to capture a large number of strong forum backlinks, success can easily come to the owner. You would be delighted to know that I have been attached with this kind of work with the do-follow backlinking for more than five years. I can proudly that I know anything and everything about the present condition of the market and the world of forum posting.

I have completed 5K plus forum posting and gathered 5K plus do follow backlinks as well as a lot of web traffics. I have completed 50+ Forum Posting projects in my previous years. I always build up a chain of the do-follow links by getting backlinks so that a website always gets more traffic. I like to request you to see my work history and backlinks projects from my work history area. As success is my main aim, I always find my way to success gain by hook or by crook. And for this very reason, I strongly believe that I will be able to satisfy you in this project. So I really hope that you would put your trust in me and you would hire me.

If you want to contact me for any reason, you will find me always available on Email and Skype. I am free to work more than 40 hours per week according to your time schedule. I am very much interested to start your project as soon as possible according to you with your permission.

Thank you for your consideration
Best Regards
Write down (Your Name Here)
Sample 01: Job Posting on Forum Posting
Job Title: Looking For a Forum Poster for Posting in Indian Forums and Portals
Job Description: We urgently need a Forum Poster who knows well about off page SEO works. He might have to manage our press release in different forum portals.
Topic will be given for the discussion and press release.
You will have to report with:
Post link
Login and Passwords
We will need at least 50 posts. We will pay you $10 per report as pay-as-you-go method.
You don't need to be an expert to finish this project; you just need to know about basic ideas of Off Page SEO and how Google works.

Interested workers submit their proposals quickly please.
Sample 02: Job Posting on Forum Posting
Sample 03: Job Posting on Forum Posting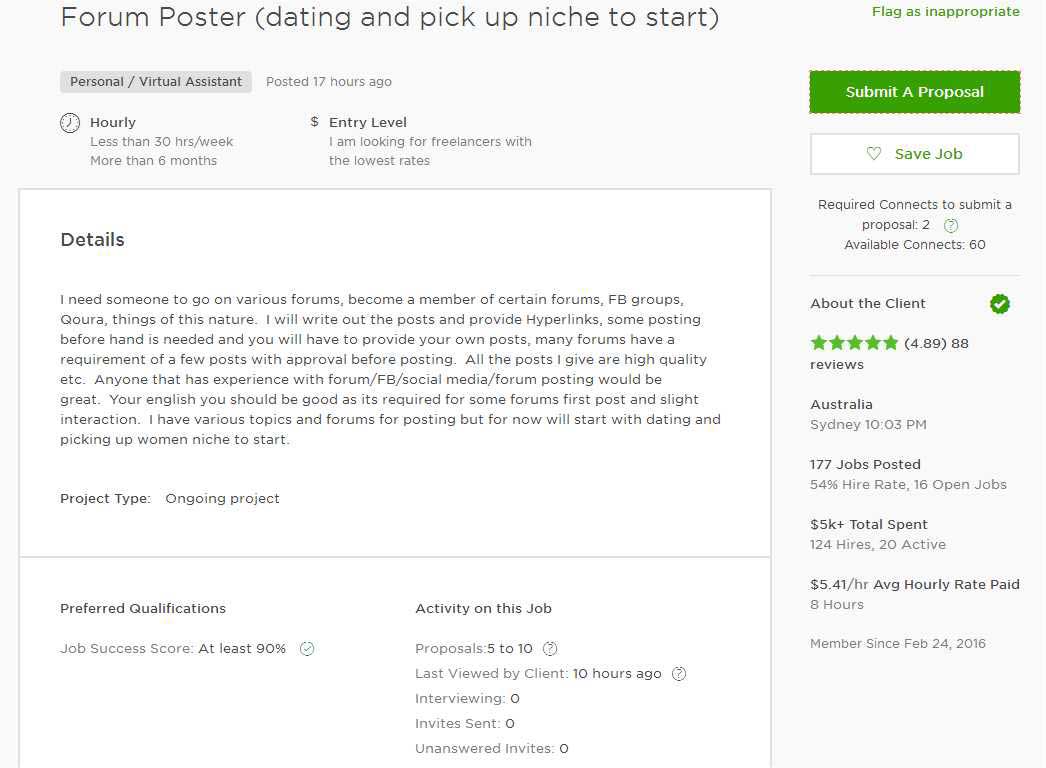 Sample 04: Job Posting on Forum Posting
Sample 05: Job Posting on Forum Posting