Let's see the sample of Upwork proposal cover letter for SMM, Social Media Marketing & Digital Marketing. It includes facebook marketing, youtube, pinterest, instagram, linkedin, etc. Let's see: Digital Marketing Profile Overview Sample.
This samples and examples of smm & digital marketing upwork proposal will help you to write your own proposal professionally to with the job. Basically, it's the format of how a proper SMM or Social Media Marketing cover letter should look like.
As a pro freelancer, I always come forward to help all the newcomers with as much as information and details I can provide in my blogs. But if you want more details, please go to Upwork's website and read the job postings with time. You may also face trouble writing answers for Upwork Screening Questions. But no worries, you can find all the Answers of Upwork Proposal Questions here.
A large number of smm job posting are posted in upwork everyday, please see the screenshot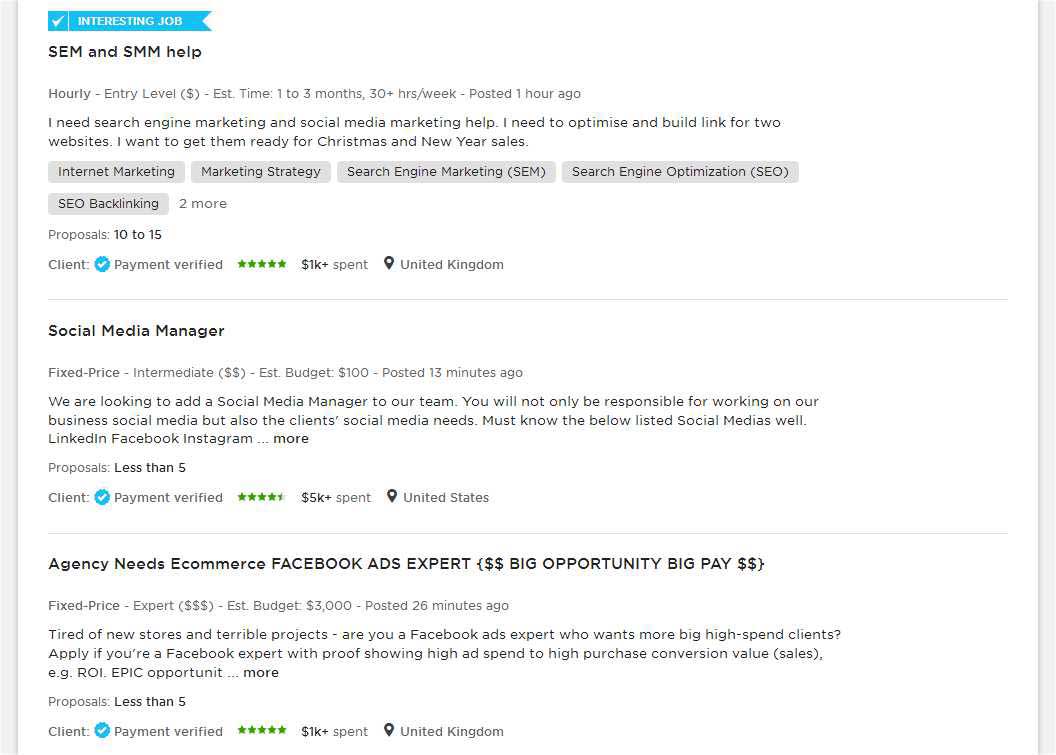 Suggestion for SMM Cover Letter
Nowadays, Online based markets are making their on way to success. Because of this, Social Media sites have become an essential part in online business market. Social Media Marketing has been proved as a very profitable section for many new freelancers. That's why; many of the freelancers are applying for SMM related jobs on Upwork. But if you are a freelancer who wants to write a cover letter on Upwork for a job posting of SMM, here are some things to consider before writing.
Tell your client about your past SMM, SEM and, EM and IM affiliation records.
If you have a website of your own, give a link of that post
Tell your client about the time you'll provide weekly.
Let him know that you have a good business mind.
Let your clients know that you can make their business more visible on social media sites
Let them know about your social media platforms; Facebook, Twitter, Linkedin, Google plus, Instagram, Youtube, Pinterest, Stumbleupon, Flickr, Tumblr, Digg, Hi5, VK, Vine, Reddit, etc.
Things You Should Consider Before Posting a Cover Letter
Keep your cover letter simple and appealing.
Choose the right cover letter format for the job you seek.
Mention specific results and successful accomplishments.
You should include 'keywords' that match your skills and the job you seek.
You should add other relevant information.
You should revise your cover letter before you hit "send."
Read client's hints in the job description carefully.
Check time requirements and project duration every time.
Always apply for jobs that have 'hourly' or 'fixed price' payment methods.
Check Report Submission Requirements, Skill Requirements and Result Requirements before applying for a job.
Make a list of available apps that might have to use.
Look carefully for Country, Region or Native Requirements.
Check out if the job is online based or offline work.
Check out if it can be done with your smart phone or you'll need a PC to operate.
Only apply for those jobs which you are good at.
Set up your mind whether if you want to apply for a job or not, only after reading all the requirements given in the job posting. After reading every detail, if you feel like that your skills can't match the requirements or you can't afford giving so much time, I suggest you not to apply for the particular job. Because if your potential client hires you by reading your cover letter and you fail to satisfy him, you might badly lose your reputation as a freelancer. Write your cover letter with confidence so that it becomes the best one among all the other cover letters. So now, let's look at a proper Sample Upwork Cover Letter for SMM or Social Media Marketing which was written with confidence.
Upwork Cover Letter for SMM, Digital Marketing
Dear Hiring Manager,
Accept my heartiest greetings.
I've thoroughly studied your job posting on….. (Write down the Job Title Here) just as soon as I saw it.
I would like you to know that I have been providing services as an expert Social Media Marketer for some years now. I have vast knowledge about various types of internet marketing techniques and I have been relentlessly applying them to satisfy my clients. I would also like to state that I have 7 years of working experience in SMM, IM, SEM, SEO, Affiliation and other types of online marketing related works. So I think I am capable of proving myself the best one for this job and I am very much interested to work in your project with all of your requirements.

For the records, I would like you to know that recently I have successfully completed many of SMM, IM, EM, etc. jobs with great client satisfaction.
If you are interested to know more about my skills, qualifications and successfully conducted jobs, I request you to have a look on my Profile, Portfolio, Work history and Feedbacks. You can also visit my official site http://www.(your site's name).com

If you want to discuss anything related to the project, I am available on Email and Skype 24/7. You can make a voice or video chat anytime if you see it's necessary. I am ready to provide more than 60 working hours per week and I am looking forward to start working on your project as soon as possible according to you with your affirmation.

Thank you for your consideration,
Best Regards,
Write Down (Your Name Here)
Sample 01: Upwork Job Posting Sample for SMM Social Media Marketing
Job Title: In a urgent need of Social Media Marketing Expert
Job Description: I have recently created a Facebook based media company in Southeast Asia. I have been holding auditions for actors from Bangladesh, India, Pakistan and Sri Lanka of all ages and both sexes. Now I need an expert marketer to help me for creating a Facebook job/ ad campaign so that people from Bangladesh, India, Pakistan and Sri Lanka can see my job advertisement easily on social media sites. The payment is not fixed yet but we will negotiate about it later but I promise that I will pay all relevant fees associated with promotions.
Sample 02: Upwork Job Posting Sample for SMM Social Media Marketing
Sample 03: Upwork Job Posting Sample for SMM Social Media Marketing
Sample 04: Upwork Job Posting Sample for SMM Social Media Marketing