This professional overview sample for Upwork Article Writer has a high demand for writers in Upwork. But the competition is also getting higher. Only the complete profile and a professional profile overview on article writing can bring the jobs. Let's see: Article Writer Cover Letter Sample.
A professional Upwork profile overview for Article Writer plays like a magic to get hired. In order to attract your client, you have to show your high writing skills and quality. And trust me your profile overview plays a very important role to show your skill.
One amazing overview and the job is yours. As you are trying to establish your profile as an article writer, it's very normal that clients will judge your work by reviewing your writing of profile overview. That's why you have to write an attractive profile overview and make sure your clients get proof of your writing quality.
Now if you are wondering how to write a perfect Upwork profile overview like professionals, then don't worry. We are here to provide you the guidelines of writing a killer profile overview as well as two samples for your better understanding.
Tips for Writing a Professional Profile Overview for Upwork Writers
1.Your first sentence of the profile overview should be impressive enough to attract your client. Your client will not spend a whole day by reviewing your full overview.

2. You need to be very professional here. Remember, the profile overview is not like cover letters. In the profile overview, you cannot use greetings. Your profile overview should be the reflection of yourself. That's why you show your seriousness for your work.

3. Show your best skills like writing skills, editing skills and most importantly language skills. In order to be a successful article writer, you have to be very efficient in grammar and word choices.
4. You need to show your expertise over PowerPoint, excel, word press, SEO (search engine optimization), HTML, etc.

5. Most importantly, try to show your skills with creativity. Make sure that your writing presents you as an expert writer.

6. Be careful and smart with your words.

7. Don't make any mistakes through your writing. Otherwise, Clients will lose their interest in you.
Upwork Profile Overview for Article Writing (Sample 01)
Writing is my passion. I turned my passion for a profession. That's why I love to always write and it comes to me organically. Moreover, I've gathered 6 years of writing experience that actually helped me to enhance my writing skills. As a result, I've become a very skilled and well experienced professional article writer and have the ability to write about any topic instantly. Punctuality is in my vain. By doing a lot of research I can produce productive content full of information. My educational background is another asset in this field.
I've turned myself into a skilled communicator that's why I can connect with my readers through my writings very easily. There's no report of plagiarism in my 6 years of a writing career. The art of creativity is the key to my successful writings. That's why clients find my writings very unique and they get their work done in time.
I have successfully established myself as a content writer. I've also good command over these following topics:
Article rewriting
Content writing
Blog writing
Copywriting
Reviewing product
Data entry
Running SEO
Making social media profiles
Advertising of products
News release etc.
I have the ability to build and maintain a professional relationship with clients which can make any project very successful.
Upwork Profile Overview for Article Writing (Sample 02)
Hello
Article writing is not my job, it's my passion and dream. I am a professional blogger and writing for web for more than 10 years. I understand the desire of traffics and search engines. I believe I am the pro in this field because I have already written 5K plus articles.
One more thing that needs to be mentioned here. I have active ten blog sites where I write regularly. It has become my passion also. That's why I find this work very interesting and never get tired of this. It keeps my enthusiasm level high. And I find various techniques to show my creativity through my writings. So that the readers also feel very interested and eventually connect with my writings. That's how my communication skills become stronger day by day.
As I have been working in this field for 8 years, I've become the expert in using these tools:
Article Writing, Blog Writing, Book Writing
News Writing, SEO Writing
PowerPoint
Excel
Word press
HTML
SEO etc.
Hard work is the key to my success. That's why I am very punctual and dedicated to my work. Creativity is an art for me that's why plagiarism is not appreciated at all.
Uowork Profile Overview for Article Writer (Sample 03)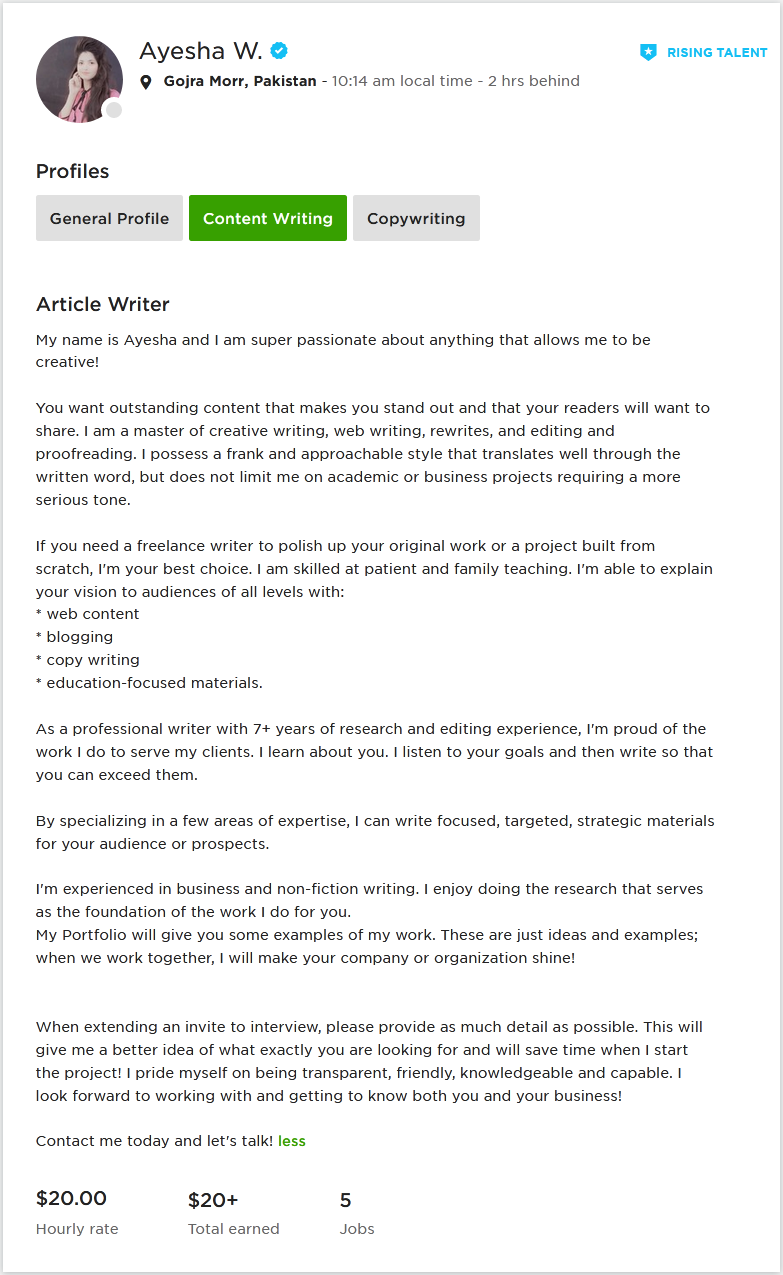 Upwork Profile Overview for Article Writer (Sample 04)
Upwork Profile Overview for Article Writer (Sample 05)