If you are a newcomer freelancer and you want to write a cover letter for Mobile app/android app/iOS app development related jobs, here's something you should know first. Let's see: Mobile App Developer Profile Developer Sample.
In recent years, to be precise, in last five years Mobile application development industry five years has multiplied in leaps and bounds, changing the way businesses function worldwide. Giant enterprises are aligning with mobile apps to their productivity in recent times, and with the rapid innovation in mobile devices across platforms, it calls for mobile app developers to write several versions of an application for many different platforms using a single language and many pieces of reusable code which is simply known as Mobile app/ Android app/ iOS app development work.
First of all, you have to make your cup of tea regarding the knowledge you have on mobile app development. As soon as you understand this, it's time to select a programming language, keeping in mind your business strategy to make either native, hybrid, or cross-platform apps. And you have to understand the proper using of these six primaries App development languages –
HTML5
Objective C
Swift
C++
C#
Java
Now, that you know what is Mobile app/Android app/iOS app? This is the time to see some real time professional cover letter samples in Upwork for mobile app development (android or iOS). Click here to see Data Entry Portfolio Sample for Upwork and Freelancer.
Upwork Cover Letter Sample for Mobile App/ Android App/ iOS
Dear HR
Hello, I hope you are well. After reading about your job post seeking a mobile app developer I'm certain that my experience as an android and iOS developer can help you attract new customers. I have more than 3 years of experience in the field and have an extensive list of success in my career. You can rest assure that I am fully capable and worthy of the job.
My educational background includes BSc in Computer Science Engineering from (insert name of educational institute) with the highest CGPA. Along with my previous experience of creating various apps I have gained a lot of competition in the technology based field. I recently developed a mobile app for (insert name of previous employer), and needless to say, my previous employer was absolutely satisfied by the finished product.
Due to my detail orientation and sound knowledge of Android SDK and Java, along with my passion for testing and debugging, developing android and iOS apps are nothing but child's play to me. I can also easily monitor them for future upgrades as per the need of the users and improve them further.
My team and I together are mobile pioneers with great technical skills, and we have an eye for details that I believe you are searching for. I am good at working under pressure and am able of keeping a deadline.
Please feel free to contact me via Skype or Email if you think I'm up for the position. I'd like to meet with you to further discuss adding value to your firm. I appreciate your time and consideration.
Sincerely, (Your name here)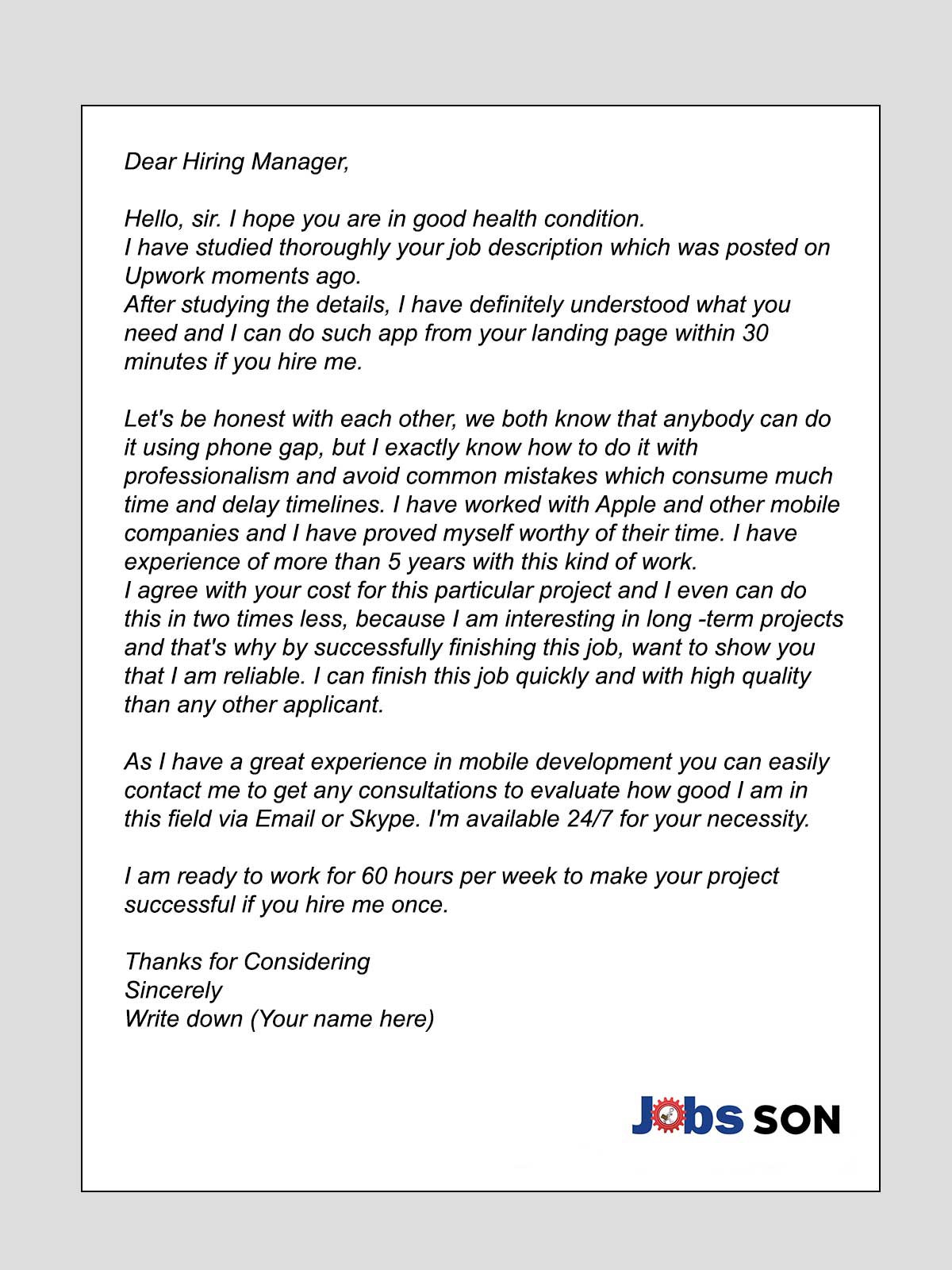 Sample 01: Job Posting on Mobile App Development
Job Title: Looking for a Mobile app/ Android App/ iOS app Developer
Job Description: As our new mobile designer, you will have to work closely with our trusted mobile product teams. Your primary goals will be to design the next generation of mobile websites which will be the top-notch example in the world. I am expecting to make this app available for all kids of devices like mobile, Tab, PC, etc.
Please only apply for this job if you understand all my requirements and ready to satisfy me in this project. The app should be flexible to update anytime.
You have to be reported to our director, and we can ask for any kind of edits and developments. We will pay $8000 for the project and 50% will be paid in advance

If you agree with all the terms and conditions, you are free to apply for the job.
Sample 02: Job Posting on Mobile Apps
Sample 03: Job Posting on Mobile Apps
Sample 04: Job Posting on Mobile Apps
Sample 05: Job Posting on Mobile Apps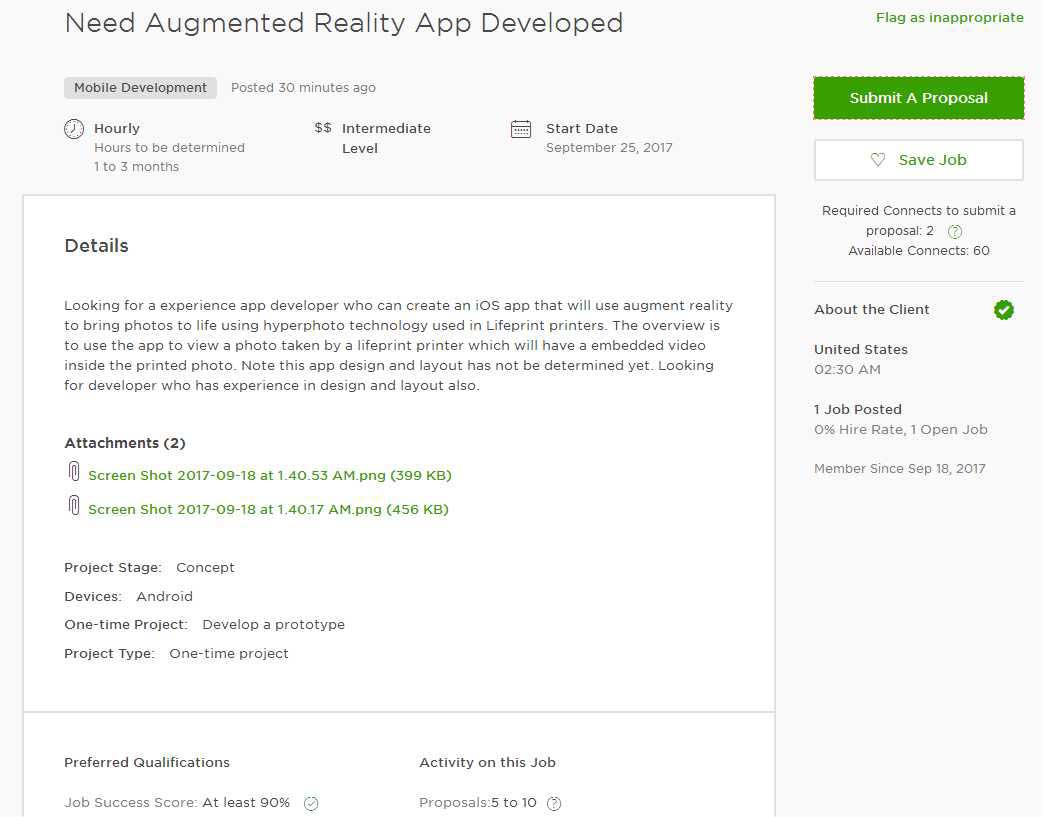 Sample 06: job Posting on Mobile Apps