This professional Upwork proposal cover letter for Article, Blog and Content posting (on-page seo optimization) will be your job winning partner in this year. E-commerce organization are always in search for product poster with perfect on-page optimization. Let's see: Data Entry Portfolio Sample for Upwork and Freelancer.
Everyday millions of Articles are being posted globally that's why article posters are being needed rapidly. Also if you are an seo expert, then this cover letter proposal will be your best friend to win a job in upwork.
As a pro freelancer, I always come forward to help all the newcomers with as much as information's and details I can provide in my blogs. But if you want more details, please go to Upwork's website and read the job postings with time. Let's see:
You may also face trouble writing answers for Upwork Screening Questions. But no worries, you can find all the Answers of Upwork Proposal Questions here.
Upwork Cover Letter Sample for Article & Blog Posting
You have to understand that cover letter accompanying your Article /Blog/ Content posting job posting submission is your only chance to lobby on behalf of your manuscript. A freelancer should know that a cover letter is far from just a formality and should be written with great care and authenticity. In a word, your cover letter is designed to influence the decision of your potential client. This post contains some tips about Article / Blog/Content posting job postings on Upwork. Here they are-
Let your client know about your typing speed and good vocabulary
Maintain good reputation to your customer.
Let your potential customers know that you will get their site raked up on search engines.
Take a good on every detail given in the job post
Don't apply for the post if you cannot perform according to your customers' satisfaction.
About Posting contents and article's
About Internal Linking and External Linking
About Graphics and images, videos, other contents
Tags h2, h3, alt, title, etc.
Consider Before Posting a Cover Letter:
Keep your cover letter simple and appealing.
Choose the right cover letter format for the job you seek.
Mention specific results and successful accomplishments.
You should include 'keywords' that match your skills and the job you seek.
You should add other relevant information.
You should revise your cover letter before you hit "send."
Read client's hints in the job description carefully.
Check time requirements and project duration every time.
Always apply for jobs that have 'hourly' or 'fixed price' payment methods.
Check Report Submission Requirements, Skill Requirements and Result Requirements before applying for a job.
Make a list of available apps that might have to use.
Look carefully for Country, Region or Native Requirements.
Check out if the job is online based or offline work.
Check out if it can be done with your smartphone or you'll need a PC to operate.
Only apply for those jobs which you are good at.
Set up your mind whether if you want to apply for a job or not, only after reading all the requirements given in the job posting. After reading every detail, if you feel like that your skills can't match the requirements or you can't afford giving so much time, I suggest you not to apply for the particular job. Because if your potential client hires you by reading your cover letter and you fail to satisfy him, you might badly loose your reputation as a freelancer. Write your cover letter with confidence so that it becomes the best one among all the other cover letters. So now, let's look at a proper Sample Upwork Cover Letter Article /Blog/Content posting which was written with confidence.
Upwork Cover Letter Sample for Article & Blog Posting
Hello Mr. (client's name)

I have recently read your job posting (Put the Job Title Here) and I am very much interested to work alongside you in your project. I can proudly say that I am a pro blogger with more than 5 years experience in blog writing, Posting and SEO. So, I have got all the skills and qualifications you're looking for this particular job.
To know more about my skills and the jobs that I have successfully finished, I would request you to have a look on my Profile, Portfolio, Work history and Feedback. Usually, it takes me like 2 hours or less to write and post blog content with graphics and all the SEO supplements according to client's requirements.
If you would like to contact with me, I am always available on Email, Facebook and Skype. Please do not hesitate to place a voice or video chat if necessary anytime you see fit. I can provide more than 60 hours of service per week and I am looking forward to start your project as soon as possible according to you with your permission.

Thank you for your consideration,
Best Regards,
(Please Write Down Your Full Name Here)
Sample 01: Job Posting on Article & Blog Posting
Job Title: Need a Skilled Writer for Website Content Writing and Posting
Job Description: We are a leading online based marketing agency in UK. We want 100 articles, at least 5 articles (300- 500 words each) everyday to be written and posted on our webpage.
This whole project might take around 7 days and we'll discuss the working hours later on.

Our budget is $2500 for this job and we only want the best writers to be hired. 50% advance and 50% after the job is done.
Please only those who have a good command, abilities and know the proper use of Grammar in English, apply for the job.
Please pardon me if you find any detail is missing as this was posted from a mobile device.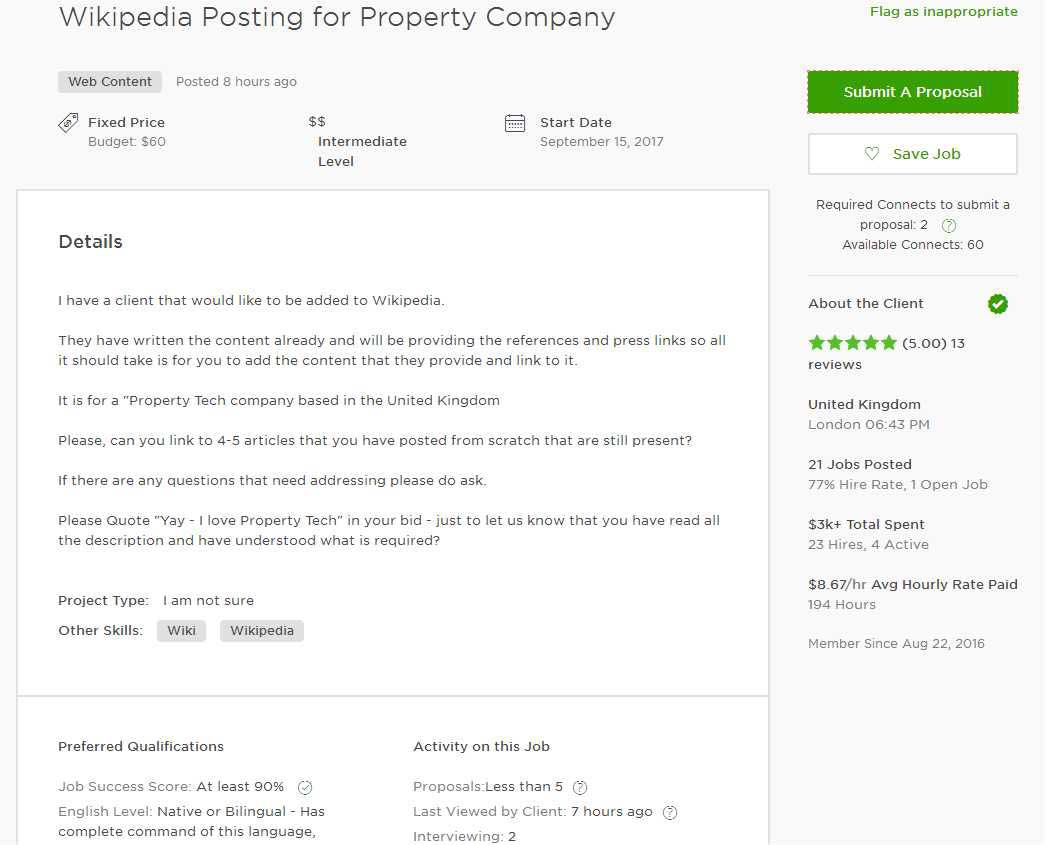 Sample 02: Job Posting on Article & Blog Posting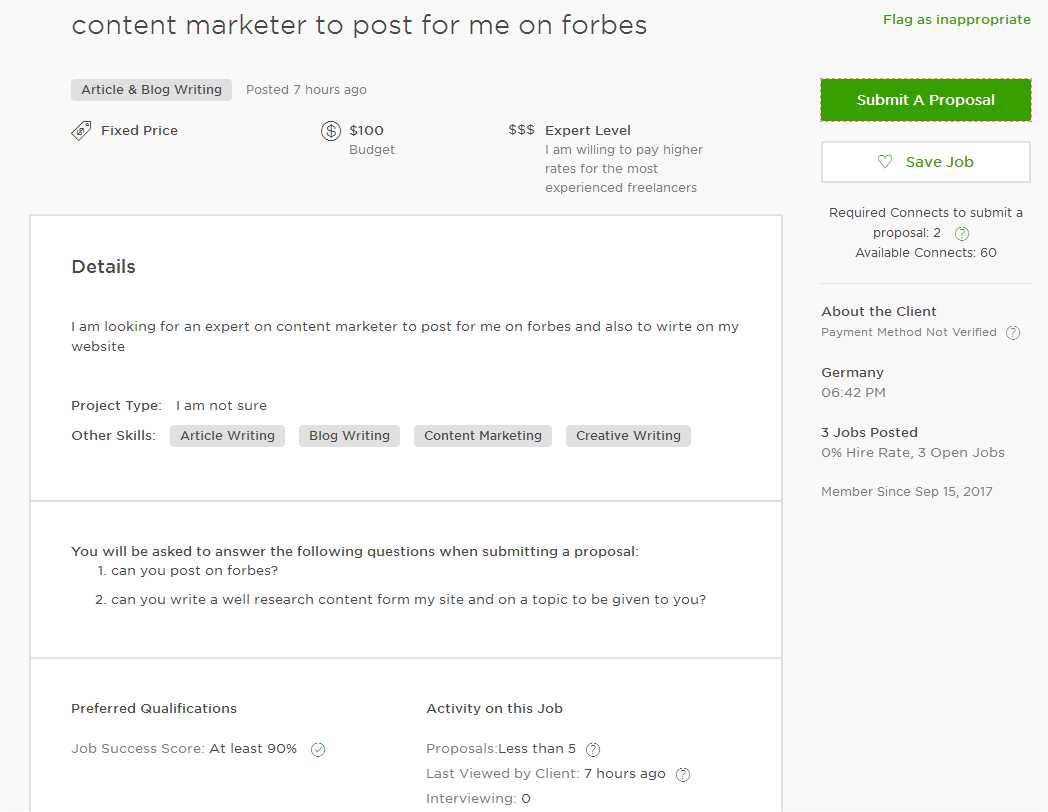 Sample 03: Job Posting on Article & Blog Posting
Sample 04: Job Posting on Article & Blog Posting
Sample 05: Job Posting on Article & Blog Posting