If you're looking for Cover Letter Sample for Affiliate Marketing / Amazon, then you've come to the right place. PDF file of this cover letter sample of affiliate marketing is also available here. Even if you don't know how to write an Affiliate Marketing /Amazon Cover letter, don't worry. We are going to provide the best cover letter for affiliate marketing and Amazon promoting. Let's see: Affiliate Marketer Profile Overview Sample.
We will also provide you a sample job posting on Affiliate Marketing / Amazon to help you out. You can download all the pdf files from here.
Now If You are Thinking What is Affiliate Marketing / Amazon and How it Works.
If you don't have a basic conception about the Affiliate Marketing, then allow me to enlighten you. Click here to see Upwork Affiliate Marketing Profile Overview Sample. In the mid 90s, early forms of online advertising like CPM or fixed placement started seeing competition from emerging, more accountable forms of online advertising which was later on named as the Affiliate Marketing. So, now you may ask me, how does it work?
Well, Affiliate Marketing has 03 vital parties that is mainly engaged in this field.
The Advertiser
The Publisher
The Consumer
If you understand the relation between these three parties and the roles they play, you will understand how Affiliate Marketing works.
In the world of affiliate marketing, the first party that comes to the game is an Advertiser. There are different types of Advertisers. Sometimes, an advertiser can be a seller of their own products like clothing, electronics, groceries, etc. Sometimes, an individual can sell products of their own. In the simplest words, if you are ready to pay other people to help you sell and promote your business, that makes you an Advertiser. Let's see Data Entry Portfolio Sample for Upwork and Freelancer.
A publisher is an individual or company that promotes an advertiser's product or service in exchange for earning a commission which mainly is an online shop or portal like Amazon, Alibaba and others. Advertisers contractually agree to work with a publisher. After that, the advertiser gives them some ads like banner ads, text ads, promo ads, gif ads, etc. Then the publisher incorporates these creatives into their website so that the Advertiser knows where his products are being shown.
The final and probably the most vital element that completes the Affiliate Marketing's triangle is the consumer. The consumer is the person who sees the advertisements and then makes an action by clicking a link or by submitting their information via a form. By this process the customers were redirected to the advertiser's page and complete the selling. By this process, the order is completed and everybody gets what they want. It's easy, reliable and time saving. That's why; the online shops are so much popular. No wonder, why people are rushing towards the jobs which are related to Affiliate Marketing or Amazon.
Now, as you know pretty much about the Affiliate Marketing / Amazon, let's get to the main part which is reading Cover Letter samples on Affiliate Marketing / Amazon.
Upwork Cover Letter Sample for Affiliate Marketing & Amazon
Dear
I recently saw your job posting on Affiliate Marketing Manager which was posted on……. (Platform's name).
After going through all the details provided in the job description, I feel like this job is built for me. As a marketing professional with 7 years of experience and a widespread track record of success, I'm excited to see your project opening. I am sure, I can handle the project more than someone else.
I have excelled in working effectively with a wide variety of clients in order to complete projects successfully and I have achieved measurable results. You'd be delighted to know that I am a strong communicator, strategic planner, and problem solver, and I am a quick learner. I always apply new professional skills in fast-paced environments.
In order to drive success, I leave no stones unturned. I also have abilities to take on leadership roles within teams and to work with stakeholders throughout the organization to achieve goals. My willingness to conduct research in order to guide and support marketing efforts to reach target audiences is exemplary.
So I feel that I, my skills, and my experience are a suitable fit for the open position with your project and would like to speak with you to discuss this opportunity in greater detail. You can always find me on Email and Skype. I'm ready to work for 60 hours per week for your project if you hire me once.
I appreciate your time and waiting to hear from you very soon.
Sincerely,
Write Down (Your Name Here)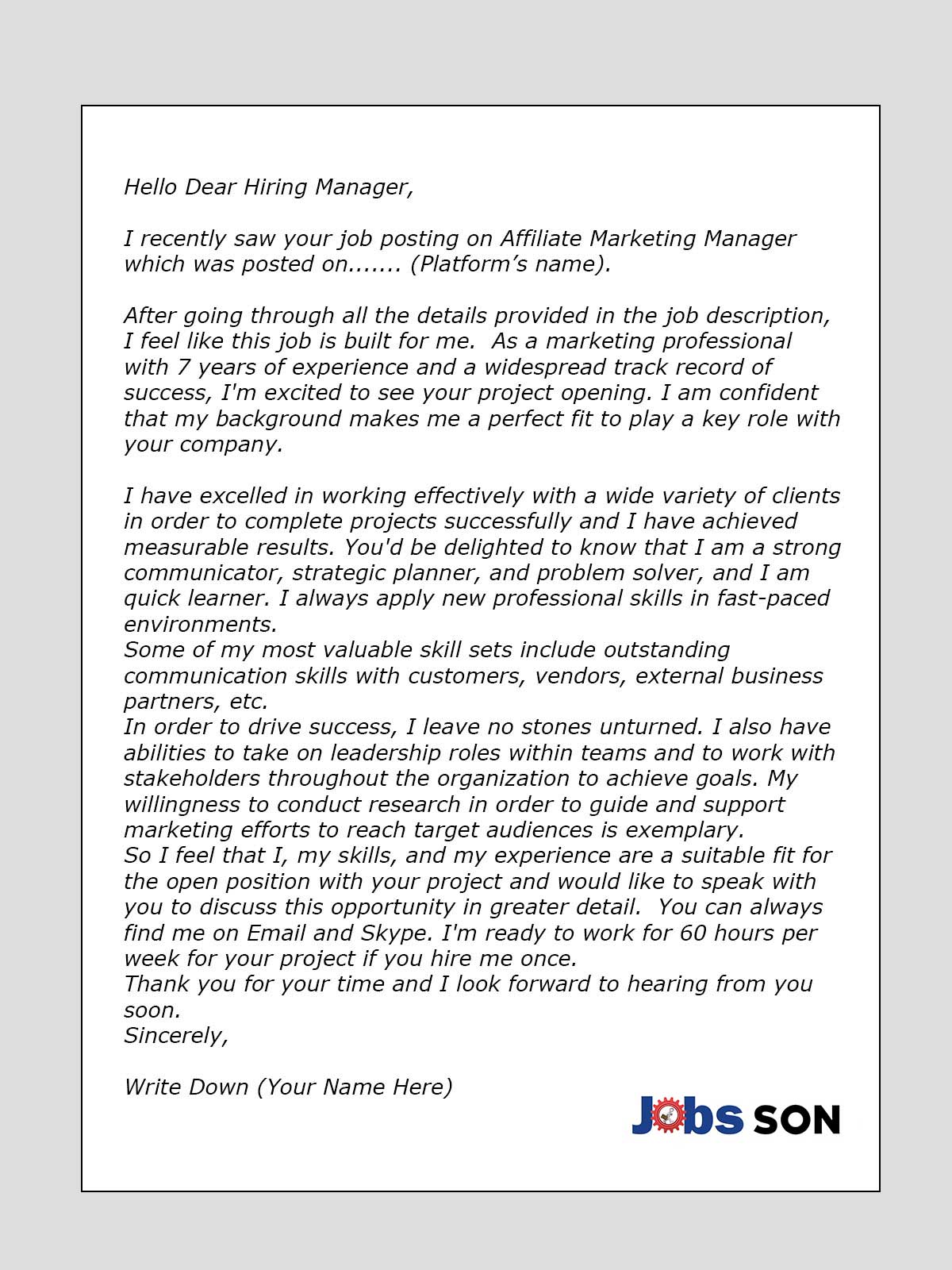 Sample 01: Job Posting sample on Affiliation Marketing / Amazon
Job Title: Looking for a Marketing Expert
Job Description: We are a Austin Based Property Broker Company and we manage over 2,500 properties in 60+ markets including Austin, Lake Tahoe, Port Aransas, Palm Springs, and Santa Barbara. We are growing rapidly and our goal is to become the largest firm nationally by offering homeowners advanced vacation rental management services, with higher revenues at lower cost on Amazon.
As our Partner and Affiliate Marketing Manager, you'll be responsible for growing our partner and affiliate channels to increase our companies global reach, website traffic, and bookings for our portfolio of vacation rentals. If you want to be successful in this role, you'll need to be a part business development pro as you'd be responsible to generate new business windows, a part account manager as you'll create new opportunities with existing partners and most importantly, you will need to be a part project manager to drive forward partner-specific initiatives and projects. We offer competitive salaries and bonuses which will commensurate with your skills and experience.
Qualified Workers please submit their proposals soon.
Thank you.
Sample 02: Job Posting sample on Affiliation Marketing / Amazon
Sample 03: Job Posting sample on Affiliation Marketing / Amazon
Sample 04: Job Posting sample on Affiliation Marketing / Amazon
Sample 05: Job Posting sample on Affiliation Marketing / Amazon