Many of the new freelancers write Cover Letters for UX and UI Designing job postings on Upwork. But there is still in confusion between Web Developers for the terms UI and UX design. But don't worry, we are here to help you if are also one of those newcomer developers. Let's see: UI & UX Designer Profile Overview Sample
Usually, UX Design refers to the term 'User Experience Design', but on the other hand, UI Design stands for the literal meaning of ' User Interface Design'. A web developer should understand that both of these elements are crucial to a product and they work closely together. But despite of their professional relationship, they play quite different roles which refer to very different parts of the process and the design discipline. Let's talk simple, if UX Design is a more analytical and technical field, then UI Design is most likely to be closer to what we refer to as graphic design, though the responsibilities of UX designing are somehow more complex.
Let's imagine a product as the human body. The bones work as the code which give the body it's natural structure. The organs work more likely as the UX design which continues measuring and optimizing against input for supporting life functions. And when it comes to UI design, it represents the cosmetics of the body–its presentation, its senses and reactions. Click here to see Data Entry Portfolio Sample for Upwork and Freelancer
Now if you have gained the basic knowledge of UI and UX designing, let's get back to business. If you are looking forward to apply for any UI and UX designing related job posting, make sure you know how to do these things properly before writing Upwork Cover Letters.
Copy writing
Digital Illustration
Story boarding
Concept Development
Online Marketing
Account Planning
Marketing Research
Public Relations and
Promotion
Media Buying
Brand Strategy
Photoshop, Illustrator
Icon Design
Sketch Design
FX and Animation
# Upwork Sample Cover Letter for UI & UX Designer
Dear Hiring Manager,

I am applying for the job posting where you have mentioned your need for a UX and UI Designer. I would be very happy if you please consider my candidature for the posting.

I want to give you a clear view about the contribution I can make to your product development efforts as a UX designer. My educational background is mainly Computer Science, in which I hold both a Bachelor of Engineering and a Master of Science degree. I began working in both section of web programming and web developing related works as a young student, which eventually made me an expert user of HTML, CSS, Java, PHP and more. I also possess great skills in the graphic side of web design, experimenting with programs in the adobe Creative Suite, such as Photoshop, Illustrator and Dreamweaver.
Last five years I have engaged myself in many UI related projects due to my strong background in creative UI designs. I would like to also add that I have developed a wide range of forward-thinking user interface programs, which have all improved user experience and this has aided my talented knowledge in the course and responsibilities of this position. So for every possible reason, I can claim that I have proficient knowledge in the process and responsibilities required for this position.

So, If you are looking for an expert UX and UI designer who knows not only where to put the submit button but exactly what it should look like, look no further. Understanding mobile programming is an important fact to know the user interest in UI. I have sharp knowledge over programming and designing of web and mobile software.

If you want to communicate with me, I'm always available on Email and Skype. I am looking forward to putting my 60 working hours per week for this project with your permission.

Thanks for considering,
Sincerely
Write down (your name here)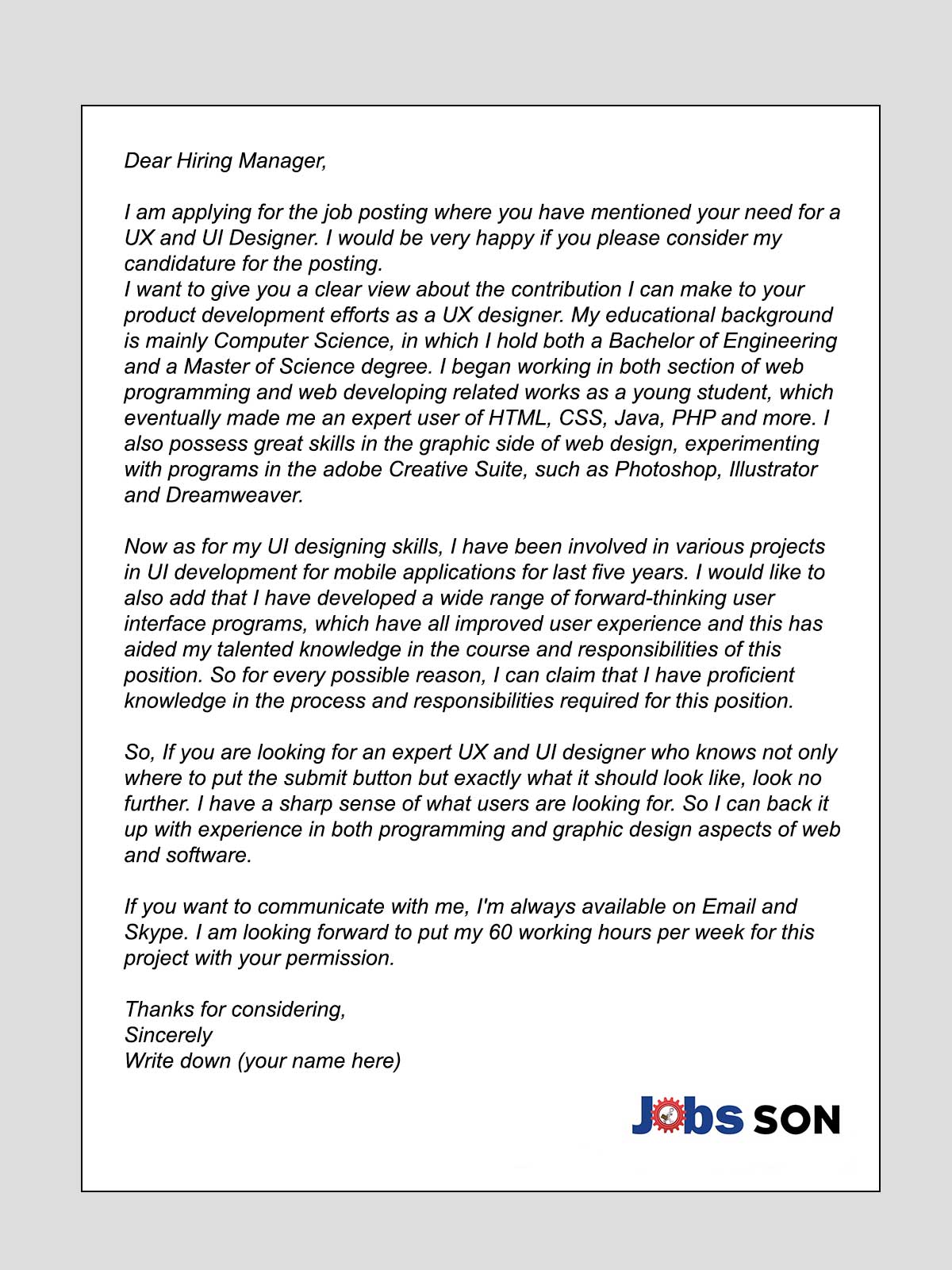 Sample 01: Job Posting on UI/UX Designer
Job Title: Looking for an Expert UX and UI designer.
Job Description:
Dear talents,
We are looking for an expert UX and UI designer who will modify the MVP version of our web solution. It is mainly an application process around 7-9 screens. Basically, we need a professional developer who will apply fascinating User Experience and attractive user interference.

We will pay by the hourly method. We will pay $100 per hour and expecting at least 40 hours of work per week. Thank you
Sample 02: Job Posting on UI & UX Designer
Sample 03: Job Posting on UI & UX Designer
Sample 04: Job Posting on UI & UX Designer
Sample 05: Job Posting on UI & UX Designer