Here you will find a sample of Upwork proposal cover letter for SEO – Search Engine Optimization. But if you have come here with motive just to 'copy and paste', I suggest you not to read any further and find somebody Else's blog. Let's see: SEO Expert Profile Overview Sample
Because this upwork proposal sample cover letter on SEO is mainly provided here so that freelancers can understand how to write a proper cover letter on their own.  Basically, it's the format of how a proper SEO cover letter should look like. You can also check Data Entry Cover Letter and Screening Question and Answer.
As a pro freelancer, I always come forward to help all the newcomers with as much as information and details I can provide in my blogs. But if you want more details, Please go to Upwork's website and read the job postings with time.
You may also face trouble writing answers for Upwork Screening Questions. But no worries, you can find all the Answers of Upwork Proposal Questions here.
A large number of SEO job posting could be found if you search by "SEO". Please see the example below: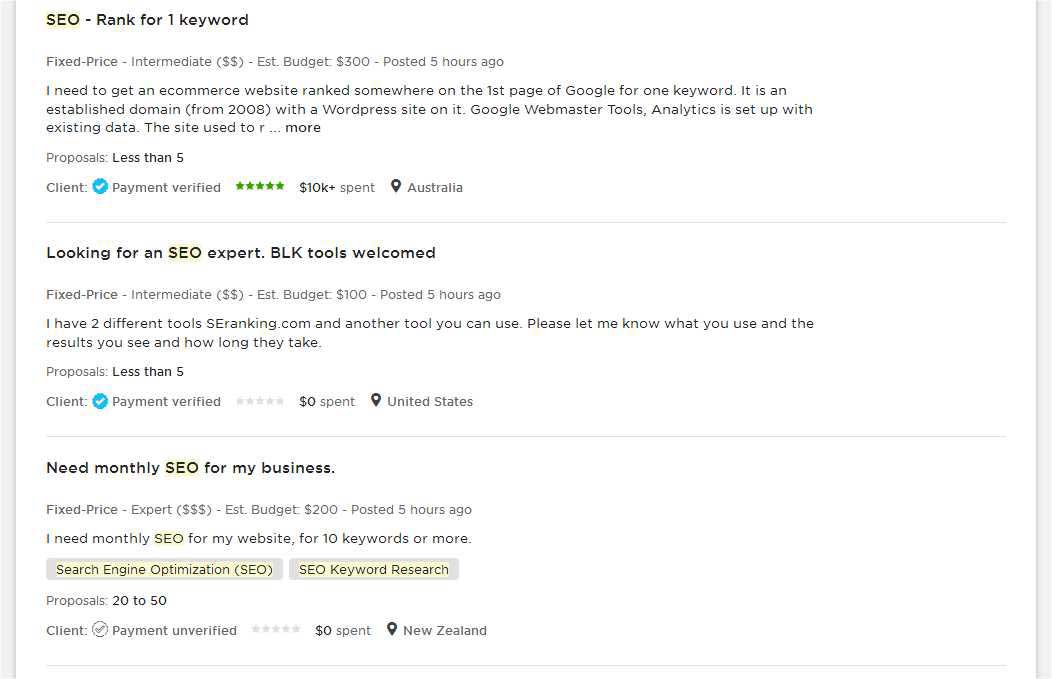 You Should Know about SEO
Now a days seo is very very tough. It is not in their position that was five years back. Two types of seo "on-page" and "off-page" both are important. You have to first understand what the client is looking for. If clients search for only off-page seo, you have to focus the link building quality mostly. In this case the below requirement is a must:
Quality Link Building
Link wheel creation
Forum posting
Quality social bookmarking
Article backlinking
Authority link creation
blog link creating
Google Panda and penguin friendly link
More….
If you see the client is asking for on-page optimization or on-page seo, you have to focus on:
HTML tags (h1, h2, b, a href, etc)
Title optimization
Meta description optimization
link optimization
Google search console
Google adwords and keyword research
Google analytics install and improvement
Image optimization, alt. title, sizes, etc
Much more…
So now, let's look at a proper Sample Upwork Cover Letter for SEO which was written with confidence.
Cover Letter Sample for SEO
Dear Hiring Manager,
Hello there. I hope you are in good health condition.
Just as soon as I saw your job posting, I've carefully studied every detail on…….. (Job title here). I can declare proudly that I am an experienced expert Search Engine Optimizer with more than 3 years experience in both "On-Page" and "Off -Page" Search Engine Optimization. I would like you to know that I am very much interested in your project considering all your requirements.
I have successfully completed a SEO project with works of (name of your last project) both on-page and Off- page SEO, which was conducted with full white hat Complying with Google Panda and Penguin Updates. My client was very much satisfied with my work as every previous client of mine.
If you want to check out more details on my skills and successfully finished jobs, please have a look on my Profile, Portfolio, Work history and Feedback. You can also visit my official site (Your site link) to have a look on my previous and recent works.
(If you do not have any site, do not use this line or do not provide any fake link just to impress the client)
I am available on Email and Skype 24/7. if you want to communicate with me, please feel free to have a voice or video chat if necessary. I would also like you to know that I am going to be available for at least 60 hours per week and I am looking forward to start your project as soon as possible according to you with your permission.
Thank you for your consideration
Best Regards
Write down (Your Name Here)
Things You Should Consider Before Writing a Cover Letter
Keep your cover letter simple and appealing.
Choose the right cover letter format for the job you seek.
Mention specific results and successful accomplishments.
You should Include 'keywords' that match your skills and the job you seek.
You should add other relevant information.
You should revise your cover letter before you hit "send."
Read client's hints in the job description carefully.
Check time requirements and project duration every time.
Always apply for jobs that have 'hourly' or 'fixed price' payment methods.
Check Report Submission Requirements, Skill Requirements and Result Requirements before applying for a job.
Make a list of available apps that might have to use.
Look carefully for Country, Region or Native Requirements.
Check out if the job is online based or offline work.
Check out if it can be done with your smartphone or you'll need a PC to operate.
Only apply for those jobs which you are good at.
Set up your mind whether if you want to apply for a job or not, only after reading all the requirements given in the job posting. After reading every detail, if you feel like that your skills can't match the requirements or you can't afford giving so much time, I suggest you not to apply for the particular job. Because if your potential client hires you by reading your cover letter and you fail to satisfy him, you might badly loose your reputation as a freelancer. Write your cover letter with confidence so that it becomes the best one among all the other cover letters.
Sample 01
Job Title: In Need of a Specialist for On page / Off page SEO to get High Rankings
Job Description:
I am looking forward to hire some specialists who can handle my page's SEO to get more traffic to my web page for high sales revenue.
I am looking for specifically a worker who can make my page appear in the first page of search engines with the relevant keywords so that I can get more traffic easily.
I would like to have a worker contracted by monthly payment method. Thank you.
Sample 02
Job Title: Looking forward to hire a Specialist for On page / Off page SEO to get quick High Rankings
Job Description:
I want to hire some specialists who can handle my page's SEO to get more traffic to my web page within a short period of time, precisely, within 1 month.
I will only hire those workers who are skilled, experienced and dedicated to their work because I want see my page appear in the top 10 results of any search engine with the relevant keywords so that I can get more traffic easily within a short period of time.
I would like to have a worker contracted by hourly payment method. 50% of the payment will be paid in advanced and the rest 50% will be paid after the job is done.
Sample 03:
Sample 04: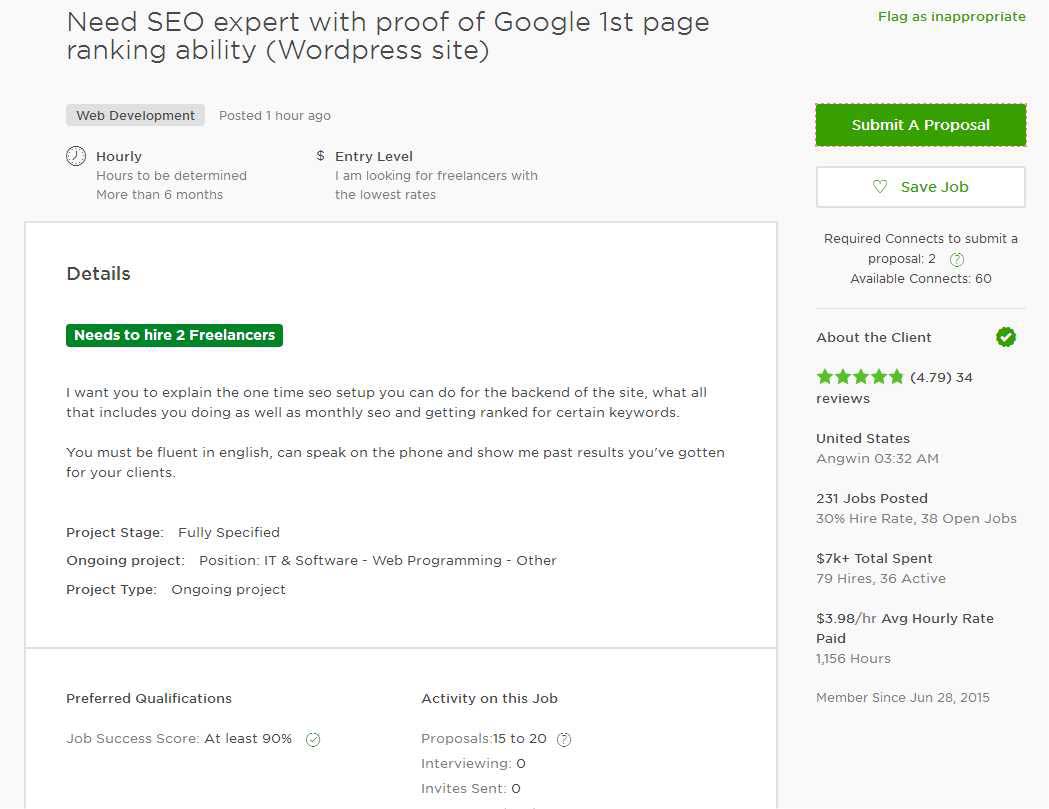 Sample 05: