Because of the lack of experience in writing up a professional upwork profile overview for SEO Expert, some real workers are lagging behind other freelancers. But if they start to follow certain categories, miracles are bound to happen in their career life. Before that, if you have come to us to explore the two profile overview samples which we are going to add to this article then explore it in the right way. Let's see: SEO Expert Cover Letter Sample.
Basically, many freelancers do not understand clients' prospects as an SEO expert, one has to keep a sharp eye on typical things. Clients are fond of the freelancers who are not uptight but do their work with full ease and support.
A freelancer needs to understand the client and customer relationship and of course some experiences would just make the profile overview much spicy. You should not forget that the number of freelancers is increasing in a rapid way and to not extinct yourself you have to keep a unique thought to catch the attention of the clients.
Skills for Writing SEO Expert Overview for Upwork Profile
Among the three basic kinds of SEO like the on-page, off-page and the technical SEO, you have to mention your category of work for the convenience of the clients. Then you have to mention the hard and soft skills respectively. Let's just take a look at the skills that you need to add to make your profile overview a killer one.
1. Authentic knowledge about coding like HTML, PHP, SEO plugins and so on.
2. Ability of thinking analytically, researching the keywords and synthesis.
3. H1, H2, Title tag, description and Alt tags and an empathetic mindset towards the co-workers.
4. Powerful memory of data and other information; Google search console and YAHOO ground map verification.
5. Meeting the deadline, forum and blog commenting.
6. Proficiency in communication, social networking and organizing sectors
7. Writing ability containing zero errors; ranking progress of Alexa and search appearance.
8. Skillful at WordPress development for critical purposes.
9. Years of experiences.
10. 100 percent flexibility and persuasive manner
11. Understanding the demands of contemporary online market
12. Mentality of admitting own fault.
13. Enthusiasm in work and honest movement.
14. Expert in excel
15. Inquisitive learner.
So these are the skills which are most wanted in the SEO experts. Also, if you fail to attain the right skills for your job, then the overview will not be worth the job. If you focus on the x-factor words, then your work is half done so to say. Clients are tired of viewing the same kind of profile overview over and over. So, a little variation would help you to represent your overview in a unique way.
For that, you can attach some of your greatest work in the overview and keep it plain and persuasive in nature. Just have a look at the two samples of profile overview and you will understand it better.
Upwork Profile Overview Sample for SEO Expert (01)
Hello, I am (write down your name). I am a specialist in Search Engine Optimization since I have been working on this sector for more than 5 years. I am an expert in both off-page and on-page. I am industrious and passionate about my work.
I am a Bachelor's degree holder in Computer Engineering from the university of (write down your varsity name correctly). I am totally aware of the skills required for this job and I am improving myself more and more. I can easily illustrate exactly the thing my client wants through my job. Again, I have a good timing sense with multitasking capability.
I am expert in blog posting, social bookmarking link wheel, directory submission and what not. Also in case of on page skills, I occupy the knowledge of website analysis, google analytics, keyword research, content optimization etc.
Therefore, I am quite a lot more interested to work on your project. Hope that you will have a look at my words and reply positively. Maybe we can make a good team together.

Thank you.
Upwork Profile Overview Sample for SEO Expert (02)
Hi there. It's (write down your name). I am highly interested in your SEO specialist job finding myself qualified for this. I am an expert in Search Engine Optimization as I am in this sector for quite a long time.
I am a graduate in Business and Management from the university of (write down the name of your varsity). I am prepared to contribute immediately on your project as I possess all the skills you have required for. I am skilled in track performances, troubleshooting, social marketing, competitor analysis, xml sitemap submission and so on.
Additionally, I am focused, hard-worker, persuasive and enthusiastic. I am passionate enough in my job and most importantly I am a learner. I learn and try to improve myself day by day. As I never compromise with honesty, I am confident enough about my skill quality.
Above all, if you think I am worth enough for the job then you may make an interview with me. Hope that you understand my eagerness to work with you on this project.

Thank you.
Upwork Profile Overview Sample for SEO Expert (03)
Upwork Profile Overview Sample for SEO Expert (04)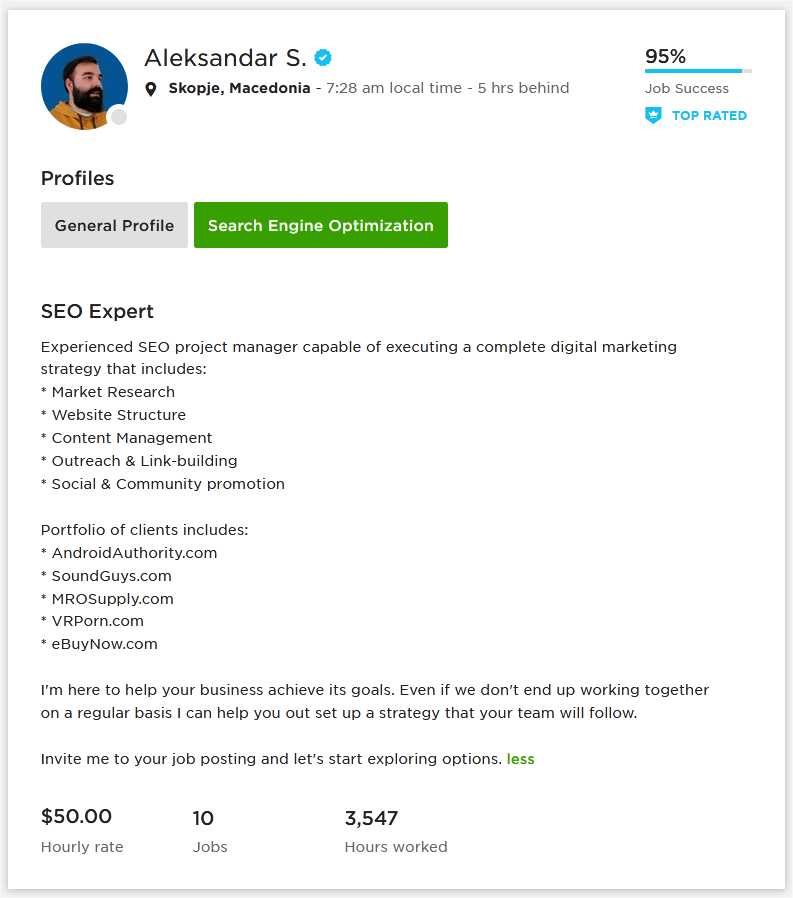 Upwork Profile Overview Sample for SEO Expert (05)
Upwork Profile Overview Sample for SEO Expert