Are you searching for a professional Upwork cover letter sample for WordPress Development? I am going to share the top number one WordPress developer cover letter samples in real time. Hope you will be satisfied with this sample. Let's see: WordPress Developer Profile Overview Sample
Many freelancers apply for WordPress related job postings without even knowing what WordPress really is. Even if they don't know what WordPress is and how it works. Also, they do not present a good cover letter in the proposal.
I believe you will get to know all about WordPress development job and how to grab that job. Even more, we are providing a sample Cover Letter so that you can write your own unique Upwork cover letter. We are also providing a sample job posting on WordPress so that you can understand what kind of job postings are published on Upwork. But before getting to that let's discuss something important about WordPress first. Click here to see Data Entry Portfolio Samples for Upwork
Basically, WordPress is an online, open source website creation tool which is written in PHP. One can easily create a professional blog or website by WordPress nowadays. It is the most popular CMS in the world.
If you are working in a good and famous company you might have used WordPress to publish something on the web. But you may not know that most of the famous blogsites, news outlets, music sites, Fortune 500 companies and celebrities are using WordPress for their own reasons.
For an instant example, famous blogs like Mashable and TechCrunch are both on WordPress. News outlet giants like The New York Times' blogs and CNN's on-air personality blogs – all of them use WordPress too.
Now, if you want to make your fortune by doing WordPress jobs, make sure you know how to conduct these things successfully before submitting cover letter on Upwork –
Exploring the WordPress
Using Dashboard
Using the WordPress Admin Bar
Exploring WordPress Settings
Creating a WordPress Post
Adding Links in WordPress
Adding Images in WordPress
Using the WordPress Media Library
Formatting WordPress Posts
Scheduling WordPress Posts
Using WordPress Categories & Tags
Creating a WordPress Page
Applying a WordPress Page Template
Installing WordPress Plugins
Using WordPress Widgets
How to Install a WordPress Theme
Creating a Custom Menu in WordPress
Managing Comments in WordPress
Creating Users in WordPress
Etc.
WordPress Development Cover Letter Sample
Dear Hiring Manager,
I would like to submit myself as a candidate for the position of WordPress Developer for your current project. I have a B.Sc. in Computer Science, and along with that I have achieved 3 years of experience as an entry-level WordPress Developer with the help of my voluntary WordPress certification. I can confidently guarantee the success of your project within a brief period of time.
I am sure you are interested in my executive experience. Designing and implementing web pages, user interfaces for sites and developing plugins for WordPress are some of many. For years, I have been assisting my clients in troubleshooting and fixing their WordPress products. I also have experience in designing suitable themes that are eye catching yet practical and arguably some of the best products out there. I hope that my skills and experience in programming and designing and my passion for WordPress will help in making your project a success. My working hours are 60 per week if I am hired. Thank you for considering me and I appreciate it very much. Hopefully we will be speaking more about this job in the future. I will be looking forward to it. You can reach me via Email or Skype any time.

Warm regards,
Write down (your name here)
Sample 01: Job Posting Sample for WordPress Developer
Job Title: Looking for an Expert WordPress Developer
Job Description: We are in need of an experienced WordPress Developer with expertise in both back-end and front-end development. Job requirements also include developing WordPress themes and plugins. Candidates must have sufficient knowledge about programming skilld that includes PHO, HTML5, CSS3, and JavaScript. He/she must also have a keen eye for web page design and a good understanding of tasteful font and color arrangements on the screen. The applicant must be knowledgable about relevant styles and trends. A good grasp on content management systems is also required due to the preference of amenable and adjustable designs that can keep up with the popular demands. An understanding of web development process is also required which includes designing, developing and the deployment of the project. Please make sure you meet all the requirements before you apply.

We will pay you $7000 whole for the project. Interested workers drop their proposals fast. Thank you.
Sample 02: Job Posting Sample for WordPress Developer
Sample 03: Job Posting Sample for WordPress Developer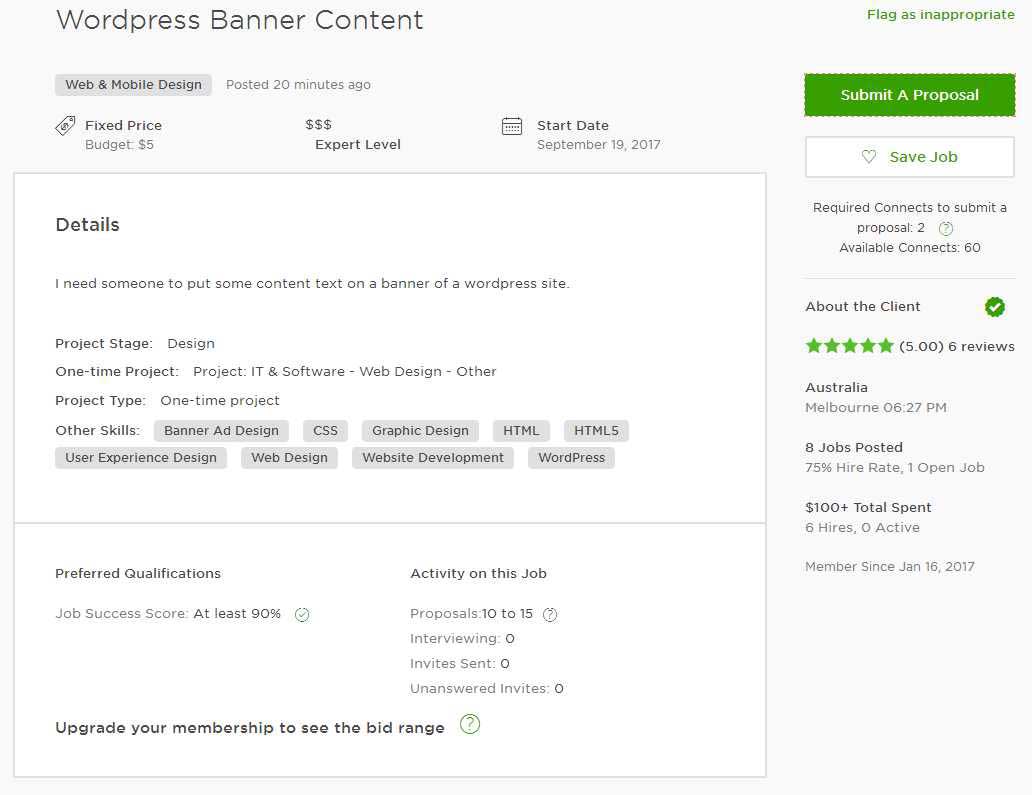 Sample 04: Job Posting Sample for WordPress Developer
Sample 05: Job Posting Sample for WordPress Developer