Before starting the cover letter for web development, we should know some key terms of web development and web developer. According to Wikipedia, Web development is a broad term which is used as a reference for the work involved in developing a web site for the Internet, in simple words, for the 'World Wide Web' Development. Let's see: Web Developer Profile Overview Sample
There's another kind of Web Developers who work on the Graphics and SEO Developments of many intranets, an intranet is mainly a private network owned by an individual. There are various kinds of works which are considered as the Web Development. To be honest with you, Web development can range from developing the static single page of plain text to the most complex web-based internet applications, (which is generally known as the Web App) electronic businesses , and social network services .
But that's not the end of it, there's a more comprehensive and complex list of tasks to which web development generally refers. This particular kind of web designing may include web engineering, web design, web content development, client liaison, client-side /server-side scripting, web server and network security configuration, and e-commerce development.
But the professional web developers have a completely different type of meaning for the term "web development". Usually for them, it refers to the main non-design aspects of building web sites: writing markup and coding. Lastly, nowadays, for the professionals, Web Development has come to a whole new meaning which is the creation of content management systems or CMS which can be made from scratch, proprietary or open source. If you don't know the literal meaning for CMS, this acts as middle ware between the database and the user through the browser. Now if you think what's the principle benefit of a CMS? Then I would say it allows non-technical people to make changes to their web site without having technical knowledge.
So, as you can see, Web Development is not something everyone can do. If you are looking forward to writing an Upwork Cover Letter for a Web Developing Work Posting, make sure you know how to conduct these things with care –
How to use authoring or scripting languages to build websites
Proper way of writing, designing and editing web page content or directing others producing content
Identifying and correcting problems which you will find by testing or user feedback
How to convert written, graphic, audio and video components to compatible web formats
Now, take a good look on the sample cover letter bellow which will help you to write your own cover letters for Upwork job postings.
Languages like HTML, CSS, JS, PHP, ASP, JSP, etc.
Upwork Cover Letter Sample for Web Development
Dear Hiring Manager
I am very much interested in your job post on Upwork. You have been looking for a Web developer who is able to deliver you the best. I consider myself as the right choice for you because I have the right skills and potentiality to match your needs. I am an established Web Developer and additionally a graduate in Computer Science. Through hard work I have gained some excellent skills in Web Development. So, I want to explore the vast possibilities in Web Development. I expect that your fine judgment will be able to pick me up from the rest of the candidates.
I would like to demonstrate my skills which are sufficient for a Web Developer. Through many hardships and by investing a lot of time, I have been able to gain high skills in HTML, CSS, JavaScript, Testing and debugging, Backend basics, SEO and Designing. Additionally, I am interested in android application and software development and I have worked on a few mobile side projects by using Objective-C and Swift. I also have a great eye for colors and designs. I have been going through different jobs and ideas since the past six years. I always welcome new ideas and suggestions to sharpen my skills.
To prove my eligibility, I would like to show you my previous track records. I can proudly express that I have been serving as a Web Developer successfully for more than six years. You can have a look at my works and feedback to keep me ahead from the rest of the competitors. I very well understand the preciousness of time, and so I have always submitted my jobs in allotted time. You will be delighted to know that I have been selected 4 times for the company trip among the 10% of the employees.
That's why I'm more than confident that I can be a great asset to your project. I would really love to have the opportunity to discuss the project details with you further. If you have any questions about my qualifications and skills, please do not hesitate to check out my profile, portfolio and work history which is attached here.
If you want to contact me later, I'm always available on Email and Skype. I am willing to work for 60 hours per week to help you with your project. So, I am really looking forward to start the project as soon as possible with your permission.

Thanks for considering,
Sincerely
Write down (Your Name Here)
Sample 01: Job Posting on Web Development
Job Title: In an Urgent Need of a Web Developer to Create WordPress Website On a Custom Made Theme
Job Description: I am looking for an expert web developer to create an author website from scratch. The Developer has to provide a custom made WordPress theme. He will also have to provide mock up design for every individual page which will have to be professional and eye catching.
I will pay by $100 per hour method and I want best results for my website. Thank you.
Sample 02: Job Posting on Web Development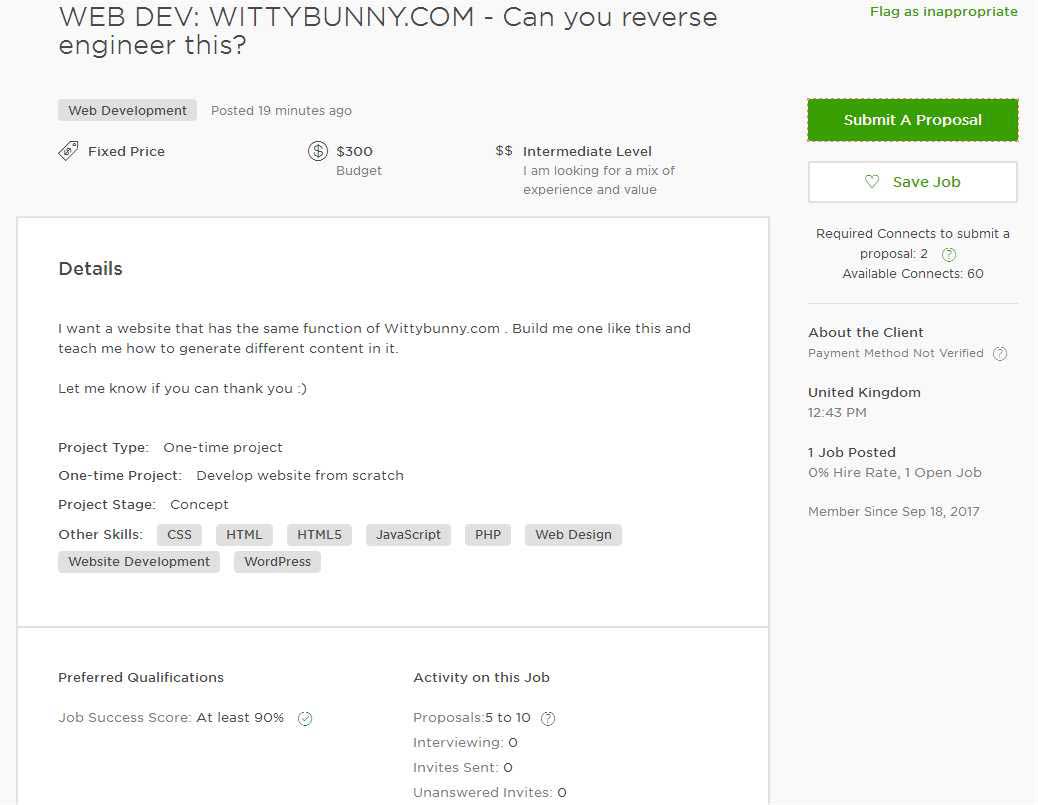 Sample 03: Job Posting on Web Development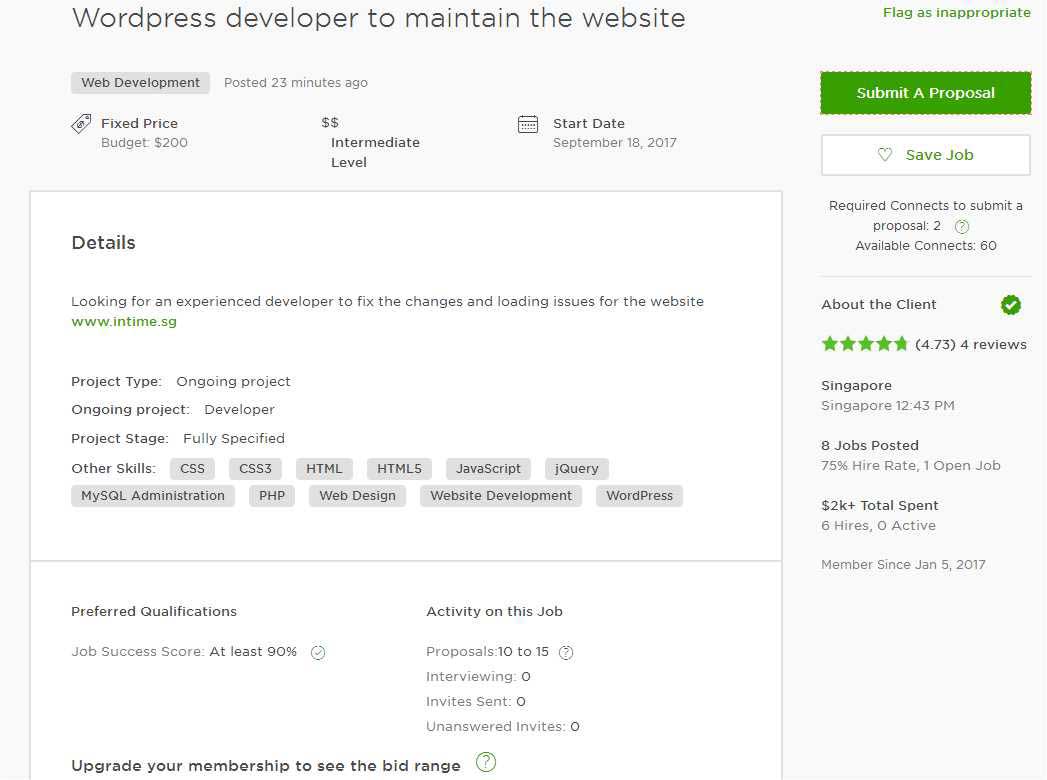 Sample 04: Job Posting on Web Development
Sample 05: Job Posting on Web Development