This professional upwork profile overview sample for web developers has been taken from world class freelancers in 2020. Scoring a real job in a very busy and loud marketplace like upwork is quite a tough thing to do. You must be worried knowing the fact that very less people can make it through all the odds. Let's see: Web Developer Cover Latter Sample.
So, if you are a web developer and looking for a job in the Upwork marketplace but facing a hell of difficulties writing a professional overview then give a look to my article. It will help you as your confidence booster!
Now, there are thousands of candidates and among all of them you have to cast proper skill-sets to win the battle. Hence, the question is how will you set a perfect overview portfolio?
Skills for Writing Upwork Web Developer Profile Overview
Well, in case of web development nothing comes before experience and skills related to this sector. By setting the most appropriate skills and adding an apposite portfolio you will slay it definitely. Most importantly, surviving in this fierce competitive battle ground is way more difficult than scoring a job. So, you better be fully prepared for every cruel situation.
Creative Skills in Upwork Web Developer
As a web developer, being creative is the most required skill any client would be asking for. Your way of handling any project and illustrating exactly the same your client wants would be appreciated first. Always remember that, your passion for work will be counted over your qualifications for the work. Your career in web development will be lit enough as long as you love your job and try to learn more from day to day. Now coming to the qualification part, let's see what skills you should be overcast with for being a consummate web developer:
1. Skills in core languages like HTML, JavaScript and CSS.
2. Skills in database, back end and basic graphic design.
3. Efficiency in tools, debugging and tags.
4. Knowing the basics of Search Engine Optimization.
5. Knowledge about URL and resource using.
6. Knowledge of basic code versioning like sharing codes, restoring and committing codes.
7. Efficiency in basic web hosting including the knowledge of domain, sub-domain, URL and general FTP knowledge.
8. Acknowledgement about libraries like parsley or bootstrap or jQuery.
9. Acknowledgement about framework like ember or angular or vue.
10. Effective communication skill and great time management skill and selective priorities.
11. Desire of learning constantly and improving skills more.
12. Making sure of quick turnaround and handing over the job.
13. Maintaining standards, best practices and making sure of the perfect executing of the concept.
14. Efficiency wireframing tools and other visual design or illustrator or photoshop.
15. Being updated with all latest technologies, techniques and web trends and showing off the effective and creative problem solving ability.
16. Multitasking and developing excellent designing senses.
Don't miss: Professional Profile Overview Sample and Example
These are the leading skills you need to develop in the first place. If most of these points are in your skill list then you are on the verge of nailing the job. What you need right now is just a perfect overview sample mentioning your skills with the use of some tricky words. For your convenience, we have put two overview samples regarding this below. Let's have a check on these:
Upwork Profile Overview Sample for Web Developer (01)
Hi there, it's (write down your name). I have been working in the sector of web development for 4 long years with great efficiency and now I would like to uphold myself for the post you have mentioned in the job description. As my experiences are of great in number, I feel that I am totally worth this job.
Besides, I have a bachelor's degree in Software Engineering from the reputed university of (write down your varsity name) and owned the highest CGPA and certified with lots of courses which I have done before to tame the other segments of this field.
I am adequate in the prominent skills like HTML, CSS, JavaScript, different web hosting sectors, basic graphic designing and so on. It is like technical or programming code and my intelligence is two old friends.
Also, soft skills are the golden features of my work. I believe in diplomacy in the field like the online market and I can tackle things with full diplomatic power which is not only appreciable but also enchanting in its very nature.
Working with me can only bring good luck as I can affirm you by my previous clients' reviews. You can pick me with an assurance of honest and best service.

Thank you.
Upwork Profile Overview Sample for Web Developer (02)
Hello, my name is (write down your name). I have been performing as a back-end web developer for 7 years and am still in the process of gaining more experiences through more years.
My educational background possesses a bachelor's degree in Software engineering. I have done a lot of course-work with authentic certificates as well.
I am so dedicated to my work that my own created websites ended with gaining lots of response and fame. I give my best to any work regarding this field. I have mastered computer languages like the PHP, HTML, CSS and my websites are SEO friendly as well.
I can solve problems analytically and can face any complex situation with a motive of fixing it with total vividness. Also, I handle customers with a friend-like manner keeping myself within professionalism.
So, I guarantee my enthusiasm in work and fulfilling my project with inexpressible efforts. Try me and you don't have to regret.

Thank you.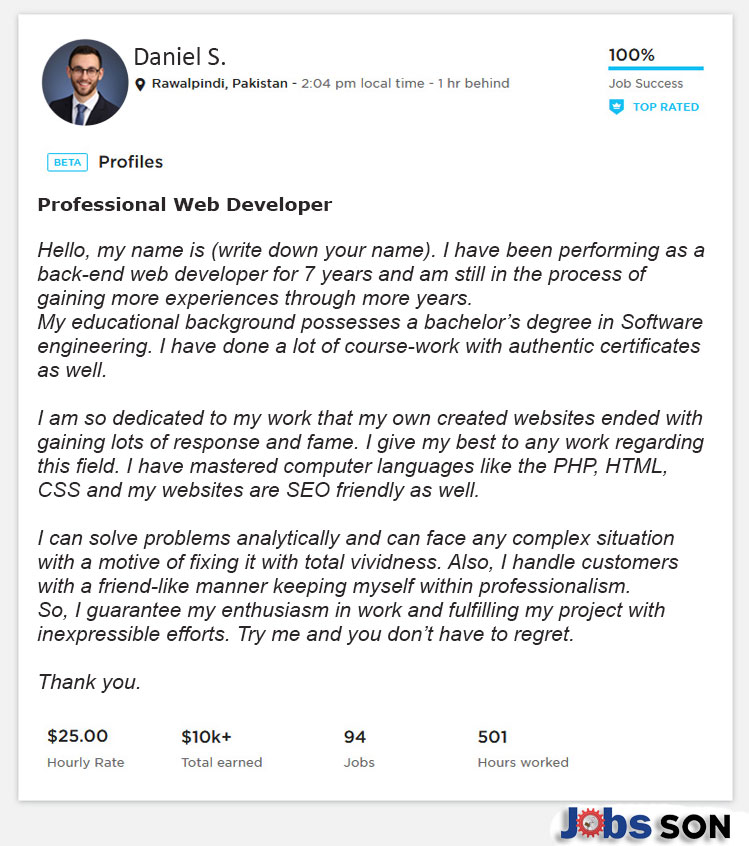 Upwork Profile Overview Sample for Web Developer (03)
Upwork Profile Overview Sample for Web Developer (04)