Are you tired of wasting hours of your time searching for Cover Letter Sample for System Administration / Network Administration on different search engines? Do you want the best cover letter samples? I believe you are in the right palace and your answer is already YES. You can easily download the PDF file for a sample letter from here. Even if you don't know how to write System Administration / Network Administration Cover letter, don't worry.
We'll provide you the best cover letter for System Administration / Network Administration so that you can write your own killer cover letter for System Administration / Network Administration to get a job. Let's see: Upwork vs Freelancer; Which is the Best?
We will also provide you a sample job posting on System Administration /Network Administration to help you out. You can download all the pdf files from here. Now If You are Thinking What is System Administration/Network Administration and How it Works. Click here to see Data Entry Portfolio Sample for Upwork and Freelancer.
The person who is responsible for the overall operation of computer systems is known as a System Admin or simply a Sys admin. But on the other hand, A Network Administrator maintains network infrastructures. And by saying network infrastructures, you would have understood that we are talking about switches and routers which are related to system attached computers. So as you can see, Network administration is a part work for a System Administrator.
So, if you understand what System Administration is, you will also understand Network Administration. In a nutshell, a system administrator's main job is to maintain and secure all of the computer's networks which he will have to monitor. And thing that a system administrator has to keep in mind that he cannot exceed the project budget. So, he has to secure every computer's network within the limited budget which is simply not an easy task.
Now, hearing the word "System Administrator " may sound pretty fascinating to many and they might start thinking how to get involved in these sort of works.
Well, for your kind information, there is more than just one path to follow to fulfill your dream of becoming a system administrator. The most effective and legal way to become a certified system administrator is to have a degree in any one of these related fields which include computer science, information technology, electronics engineering, computer engineering, information systems or even a trade school program certificate may help you. But that's not the end of it, nowadays many well-renounced companies require an IT certification to if you want to apply for any of their job posting. But you might be delighted to know that nowadays many schools have offshoots of their Computer Science program specifically for system administration.
Now, let's talk about an alternate path to becoming a system administrator. Which is to simply dive in without formal training? All you got to do is learning the systems you will need to support, as you will do other non-IT work. This is a very popular and common route for informally trained system administration. But this sort of information may only get you a job in small organizations that lack IT departments but have gradually growing needs and complexities. For an instant example so that you may understand, your shared desktop computer which is also acting as a file server becomes too slow for the needs of everyone. So you decide to take on the job of setting up a dedicated server and you learn the specific requirements to perform that task without formal training. After this, your ability to fix network-related problems spreads to other staff. And then they start asking you for help, and then you start finding solutions to those problems as needed. And then, finally, slowly you become the generally relied-upon person to do systems management for the organization.
But most of the time, these informally trained system administrators could be regarded as hackers but that's not true at all. They simply do their work in support of the needs of their organization and customers which is completely legal.
So if you want to be a System Administrator, these should be your primary qualifications –
Having a vast knowledge of operating systems and applications, as well as hardware and software troubleshooting.
A vast knowledge of the purposes for which people in the organization use the computers.
The most important skill for a system administrator is problem-solving.
A System Administrator must understand the behavior of software in order to deploy it and to troubleshoot problems.
An ideal System Administrator must know several programming languages used for scripting or automation of routine tasks.
A sysadmin must have a strong grasp of computer security.
Many more
Upwork Cover Letter Sample for System Administration / Network Administration
Dear Hiring Manager,
I have read the JD you have provided with the well organized presentation. After reading everything, I came to understand that your organization needs a new System Administrator.
I am writing this letter to you for applying to the position of Systems Administrator which is available. I have more than 5 years of experience in overseeing the operations of business systems which is quite relevant to your organization's niche. And because of this reason, I think that the skills I have gathered through this experience, definitely makes me a great fit for the post in your organization.
My everyday duties include diagnosing and addressing complex network issues. I also spend a lot of time on hard-wiring entire company networks. And that's how I have gained a reputation for maintaining the highest level of network security. I also spend time on educating users on the latest system updates.
Through all these years of hardworking, I have gained many skills and qualifications which I think make me the optimal Systems Administrator candidate for your company. Let me please tell you about some of my skills and successfully finished jobs.
First of all, I have developed and implemented custom system solutions during time at 'Triple M Extensive Maintenance Regimen' and I also have worked on Standard Operating Procedures for IT staff.
I have facilitated regular system education seminars for employees from entry-level to C-suite which certainly not everyone has done. I always have maintained the highest level of System security based on most current IT security trends. I always have regularly presented system status updates to non-technical stakeholders.
And as for my educational background, I have earned a Bachelor's degree in Computer Science from University of…….. (Write down your University name) Besides my educational background and systems administration experience which make me a good candidate for your organization, I also possess some extraordinary abilities. One of those abilities is my keen attention to detail and another one is my tested ability to manage my time. These are the two skills I've mastered during my previous works. And because of these various reasons, I can assure you that I am the best one for this post. You won't regret hiring me.

If you want to contact me, I'm always available on Email and Skype. I am willing to work for 60 hours per week if you hire me once.

Thanks for Considering,
Sincerely,
Write Down (Your name here)
Sample 01. Job posting sample on System Administration / Network Administration
Job Title:
Need an Experienced System Administrator to Maintain Our Company's Network
Job Description:
We are looking for a System Administrator who is able to maintain, upgrade, and manage our computer's software, hardware, and networks properly on a regular basis.
Resourcefulness is a necessary skill that a candidate must-have for this role. The ideal candidate for this post should be able to diagnose and resolve problems quickly. The right candidate should also have the patience to communicate with a variety of interdisciplinary teams and users.
If you want to apply for the post, then your goal will be to ensure that our technology infrastructure runs systematically, smoothly, and efficiently. You will have a lot of responsibilities to perform with excellence, every day. First of those responsibilities will be to Install and configure software and hardware. You will also have to manage network servers and technology tools. Setting up accounts and workstations will be another thing for you to do. You may have to optimize monitor performance and maintain systems according to our requirements. You will manage to troubleshoot issues and outages. Ensuring the security through access controls, backups and firewalls will be your daily duty. You will also be responsible for upgrading systems with new releases and models. You will also have to develop the expertise to train staff on new technologies. You will also build an internal wiki with technical documentation, manuals, and IT policies. The requirements for this post are very basic which include a proven experience as a System Administrator, Network Administrator, or similar role. So, if you want to apply for this post, you must have to be experienced with databases, networks (LAN, WAN), and patch management. You must possess a vast knowledge of system security (e.g. intrusion detection systems) and data backup/recovery. We don't need a bachelor's degree or something like that as we believe a piece of paper can never justify a worker's ability.
We are offering a full-time job here with a good salary. Interested workers, please submit their proposals soon. Thank you.
Sample 02. Job posting sample on System Administration / Network Administration
Sample 03. Job posting sample on System Administration / Network Administration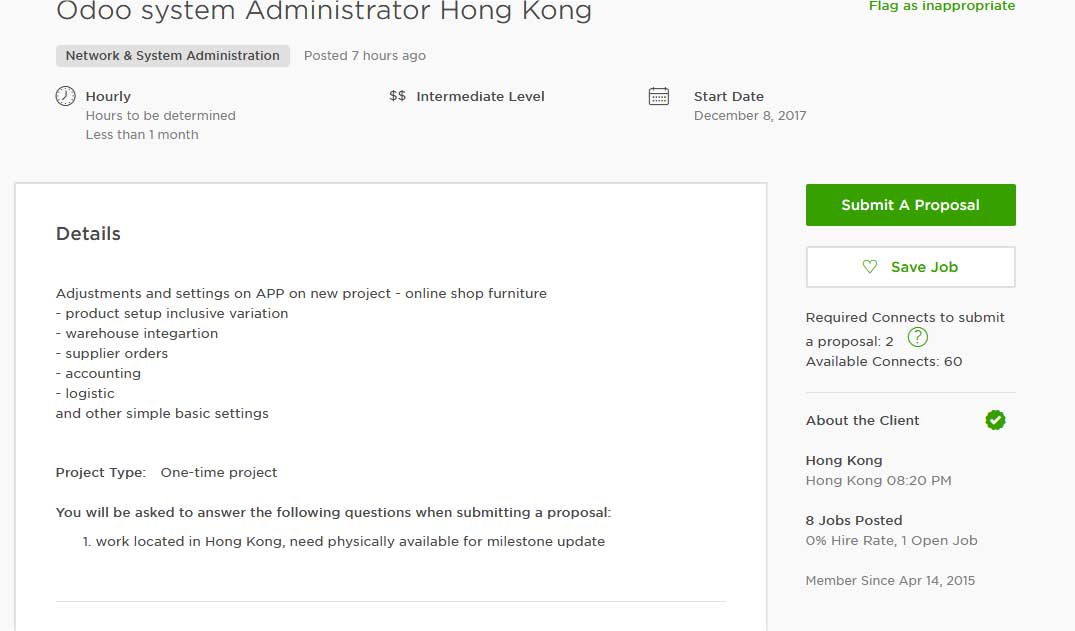 Sample 04. Job posting sample on System Administration / Network Administration
Sample 05. Job posting sample on System Administration / Network Administration