I am going to provide the best professional cover letter samples for VA/Virtual Assistant in upwork freelancer. I request you all to read the whole article and prepare a killer cover letter for your career to win a job immediately. You can also download the cover letter as pdf. Let's see the two types of cover letter samples. Let's see: Virtual Assistant Profile Overview Sample
Many of the new freelancers are trying to make their fortunes from Virtual Assistance type jobs. It's true that many of them are consistently applying for these kinds of job postings on Upwork. After writing a big amount of cover letters, they still fail to get the job. It's maybe because many of them don't even have a clear idea about what a Virtual Assistant really is. Click here to see Data Entry Portfolio Sample for Upwork and Freelancer
A virtual assistant, normally, abbreviated to VA , also called a virtual office assistant is generally a self-employed and he is a freelancer who provides professional administrative, technical, or creative (which is mostly social) assistance to clients who consults them remotely from a home office . As we know already that virtual assistants are independent contractors rather than employees, that's why clients are not responsible for any employee-related taxes, even they don't have to care about insurance or benefits, but in fact, those indirect expenses are included in the VA's fees.
Clients also can avoid the logistical problem of providing extra office space, equipment or supplies. Clients will only have to pay for 100% productive work, and they also can work with Virtual Assistants, individually, or in multi-VA firms so that they can meet their exact needs. In our basic concepts, we think that the Virtual Assistants usually only work for other small businesses.
But don't forget the fact that they can also support busy executives. It is estimated that there are as few as 5,000-10,000 or as many as 25,000 virtual assistants worldwide which is certified, but it's hard to assume the whole number of the existing Virtual Assistants along with the non certified ones. In last five years or more, this particular profession has been growing with leaps and bounds. If you want to write a killer cover letter for an Upwork job posting on Virtual Assistance, make sure you know how to do these things –
Manage contact lists and customer spreadsheets
Organize client's schedule
Set up meetings between the client and his customers
Make travel arrangements
Online and offline promotion of the client's business
Communicate and coordinate with suppliers, customers, and visitors
Handle correspondence and transcribe documents
Prepare, organize, and ship proposals and meeting materials
Translate and prepare bilingual materials
Supervise billing and accounting
Process customer inquiries via phone, chat, or email
Write, edit or proofread articles and press releases
Publish email newsletters
Complete market or internet research
Develop and maintain websites and blogs
Manage social media accounts for brands and blogs
And many more
Now that you know pretty much everything about a Virtual Assistant, let's read a sample cover letter and a sample job posting on Upwork about Virtual Assistant.
Upwork Cover Letter Sample for VA/Virtual Assistant
Dear Hiring Manager,
I have studied all the details about your job posting on Virtual Assistant Project. According to your job description, I understand that you need an expert VA for helping you in your tasks. I have also noticed that you have mentioned about your time. For the records, I have been attached with these types of works for more than six years without any single time schedule problem.
I have finished many successful projects which ones involved web research, extracting email, data mining, Google, Bing, Yahoo, MS Office (Full), Google Docs, Google Document, Google Spreadsheet, AdWords, Analytics, Webmaster, SEO, SMM, EM, SEM, PR, B2B Marketing, Lead Generation, Directory and other related programs.
I can promise you that I will assist you in your task in time with quality work. If you want more details about my working skills and qualities, I request you to have a look on my portfolio and profile. For your comfort of selection, I also have listed many successful projects in my work history area.

I am always available on Email and Skype, in case you want to contact me later. I'm ready to work for 60 hours per week if you hire me once.
Thanks for considering,
Regards
Write down (Your Name Here)
Sample 01: Job Posting on VA/Virtual Assistant
Job Title: Looking for a Virtual Assistant to manage various activities
Job Description: We are looking for an experienced Virtual Assistant who would help us to increase our administrative support and he will also have to assist our team while working remotely.
As a Virtual Assistant, you will have too perform various administrative tasks which may include answering emails, scheduling meetings and also making travel arrangements as well. For playing this role, a strong Internet connection is required 24/7. He will also have to be experienced using communication tools like Skype.

In a nutshell, you have to be able to handle administrative projects and deliver high-quality work under minimum supervision for our working team.
We will pay $25 per hour and we expect only the best. So if you think you can't perform according to your requirements, please do not apply for the post.
Sample 02: Job Posting on VA / Virtual Assistant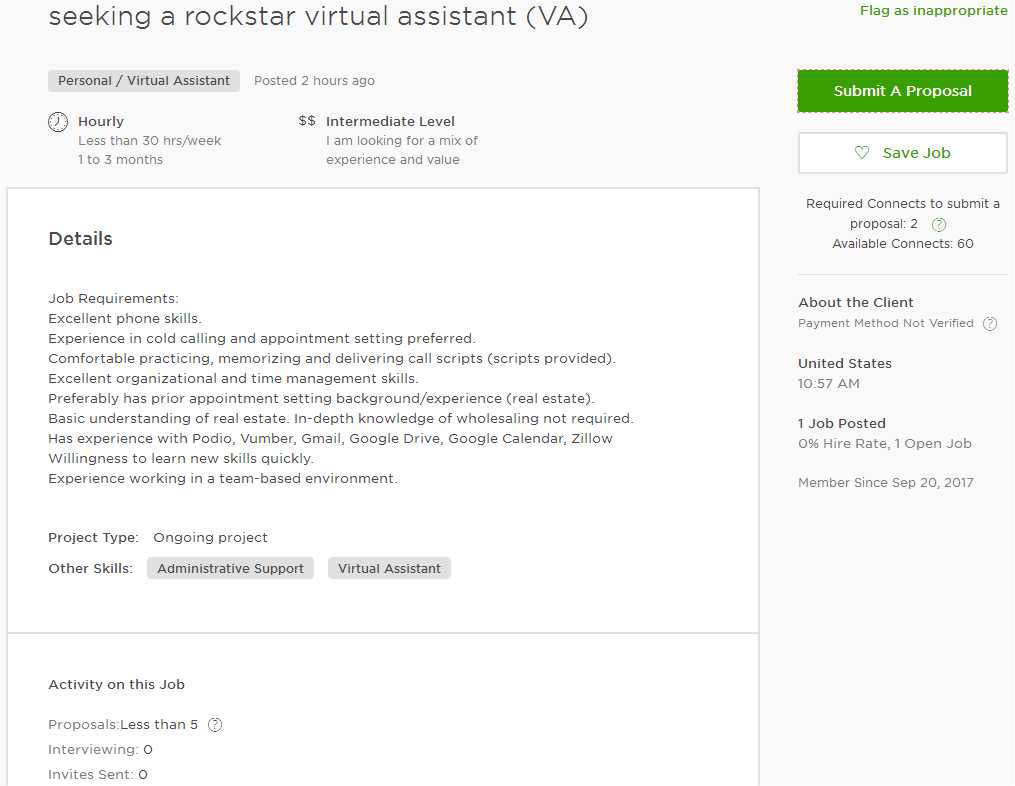 Sample 03: Job Posting on VA / Virtual Assistant
Sample 04: Job Posting on VA / Virtual Assistant
Sample 05: Job Posting on VA / Virtual Assistant