Most of the premium graphics designers cannot write a professional proposal in upwork for graphics design related job. Alomost 10K plus jobs are being posted in upwork related to Graphic Design, Logo Design, Banner Design, etc. Let's see: Graphic Designer Profile Overview Sample.
There could be many reasons behind it but the basic problem is, they fail to write a unique and killer cover letter. But no worries, here we will provide you all the information's about writing Upwork Cover Letters for Graphics Design/ Logo/ Banner related job postings.
We will also provide a template of graphics designer cover letter sample for upwork. This will make things clear with live examples. But before all that, let's have a quick discussion about what graphics design really is.
Graphics design is mainly about communicating designs through visual content. Designers use type, photos and other images as visual language to beautify a web site. It's all about how to develop visual concepts and create effective, exciting user experiences. In past five years, Graphic Design has become a broad discipline that includes 2D, 3D and even 4D imagery. A graphics designer can bring creativity to a user's work in several innovative and rewarding ways. If you want to become a visual innovator or if you want to be able to create compelling designs that convey ideas using the latest in media and technology then you have to be creative and innovative.
For an example, if you have ever been to a shopping center, a concert or a movie recently, you probably have encountered interactive experience design. And for sure, you have noticed that these designs were more engaging than traditional ads. To be more precise, you have experienced design incorporated moving images or more likely, you have experienced high end media and the user's environment for an interactive connection to the design.
So now that you know some basic things about graphics designing, let's read the sample cover letter and sample job posting that we have provided for you.
Upwork Cover Letter Sample for Graphics Designer
Hello

I have recently studied all your details in the job posting about Graphics Design/Logo/ Banner which was posted on Upwork. After I finished studying the job description carefully, I feel like that I am the best applicant for this post. You would be delighted to know that I have completed my Diploma in Graphics Design and Text Illusion from (Your University Name or Training Company Name). In my past 05 years of Graphics Designing career, I have designed a lot of web contents, banners, logos, 3D graphics, cartoons, auto cad, etc. Will you please pay a visit in my work history and portfolio area? I believe you will be astonished to see my work. I request you to have a look at them and measure my quality.

After studying all the details in job description area, I have come to understand that you in need of a unique design for your new/existing company. I understand your need that you want to give a unique branding to your organization. I have 100% confidence that I can fulfill your desire and make you satisfy in this project.

Yes, it's true that you will find so many so-called designers in the web. But you may not know that they even do not know the color combination and structure. I really do not want you to be cheated by them. I understand that you are a person who only wants the best for his company. Hopefully, if you hire me for this particular project of yours, I will provide you the best. I want you to know that am highly skilled in Adobe Photoshop, Adobe Illustrator, Adobe Flash, InDesign, Corel Draw, Text Design Pro.
I am also able to use all types of communication methods, and I am more than able to maintain your time schedule during the project is on.

If you want to communicate with me, you will find me always available on Email and Skype. I am ready to work for 60 hours per week for this project of yours if you give me the permission.

Thank you for considering
Regards
Write down (Your Name here)
Sample 01: Job Posting on Graphics Designer
Job Title: We need an expert Graphics Designer to create user interface design for Intranet System
Job Description: We need an experienced and skillful graphics designer who would dedicate his time to create better design and user friendly interface for our intranet server. It will be around 15 – 20 functions.
And remember, we only want the best. So if you feel like you cannot provide us the best, do not apply for the job.
We will pay $100 per hour and we are expecting at lest 40 hours of work per week.

Thank you.
Sample 02: Job Posting on Graphics Designer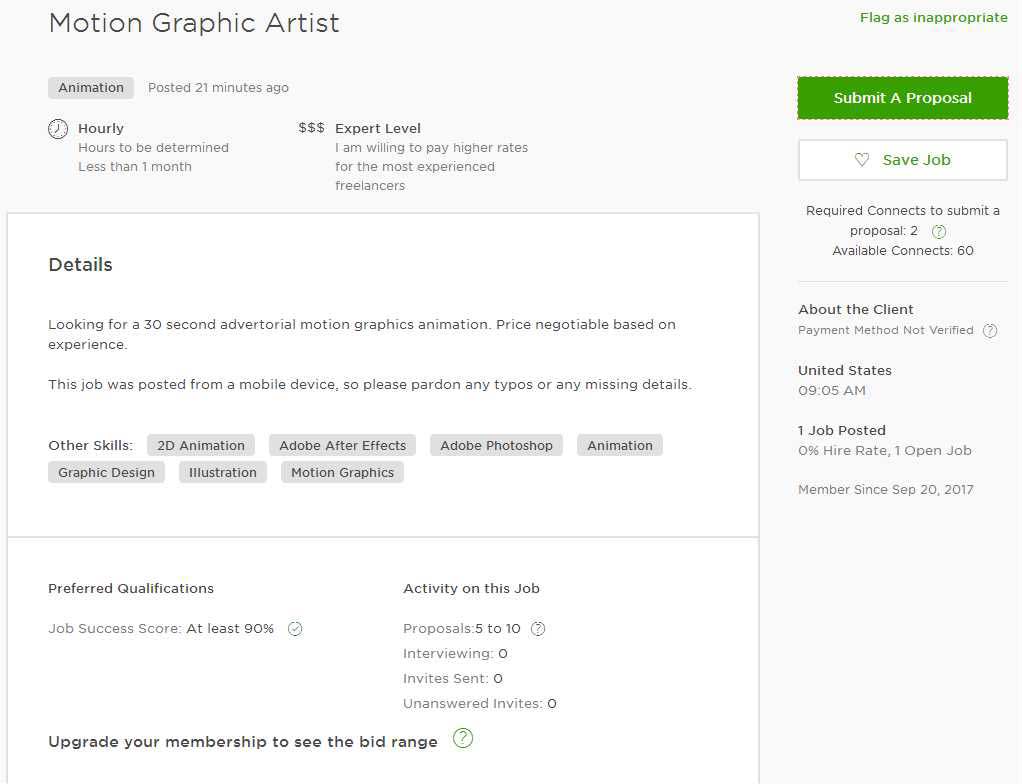 Sample 03: Job Posting on Graphics Designer
Sample 04: Job Posting on Graphics Designer
Sample 05: Job Posting on Graphics Designer